Posted by Theo Chocolate on Jan 22nd 2021
A foodie trend we can get behind!
All winter long we have been seeing gorgeous hot chocolate boards on Instagram and Pinterest and we knew that we needed to put a Theo spin on this trend for Valentine's Day. Grab a couple of mugs, your favorite cheese board, and build your own for a cozy and romantic movie night in.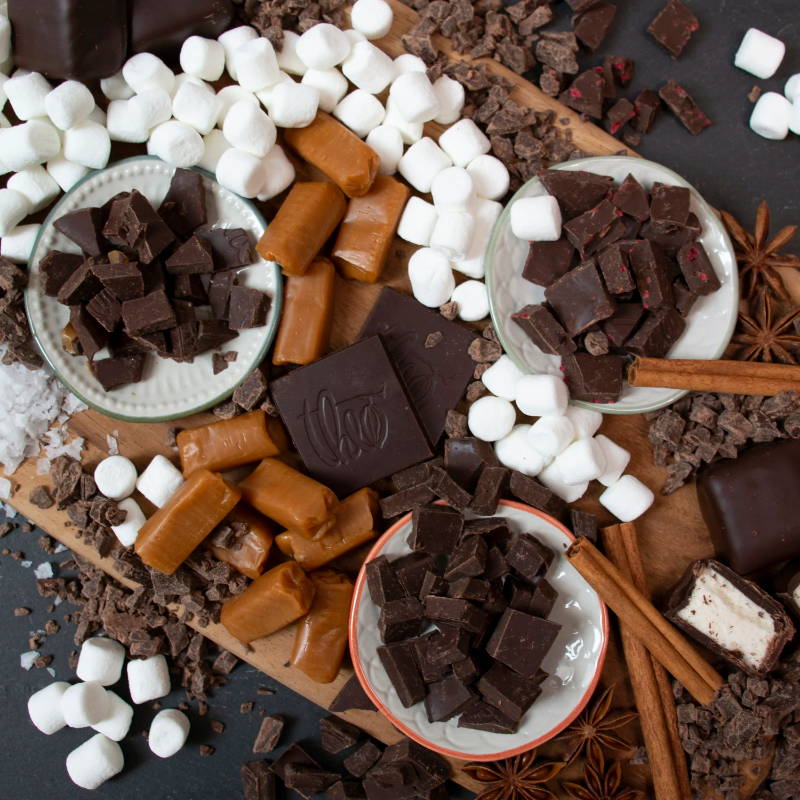 Ingredients & Flavor Inspiration:
Salted Toffee Drinking Chocolate
Vegan Cinnamon Drinking Chocolate
Raspberry Drinking Chocolate
Vegan Salted Black Licorice Drinking Chocolate
Assembling Your Board:
The only requirement to assemble a Drinking Chocolate Board is to have fun! But to start, we usually set the larger ingredients on our charcuterie board. We separate out the chocolate flavors by stacking the chopped pieces on small ceramic plates. After placing the plates, we add the Theo Chocolate Covered Marshmallows, cinnamon sticks, and caramel candies. Then finally we started adding in the smaller ingredients, like the vegan marshmallows, salt flakes, and the Theo Drinking Chocolate crumbles.
Theo Tip: Need vegan chocolate for a plant-based board? Check out our vegan options to find a new chocolate treat!
Drinking Chocolate Instructions:
Assemble your drinking chocolate board.
In a pot, heat 20z of milk until just steaming. Pour milk into a Thermos.
Add 3 tablespoons of the chocolate of your choice into a mug.
And then pour 4oz of steamed milk into the mug and stir until the chocolate completely melts. Add more liquid or drinking chocolate to achieve desired thickness.
Add flavor ingredients of your choice (example: caramel candies, cinnamon sticks, salt)
Add toppings of your choice (example: marshmallows, whipped cream)