Classic Chocolate Chunk Cookies
Posted by Theo Chocolate on Aug 1st 2023
Forget the chocolate chip cookies, we are all about that chunk!
Is there anything more comforting than a warm, gooey cookie fresh from the oven? Especially one that is loaded with chocolate in every bite?
Our chocolate has more cocoa butter than the conventional chocolate chip, so the chocolate chunks will melt flatter and spread out in delicious chocolaty patches as the cookie bake.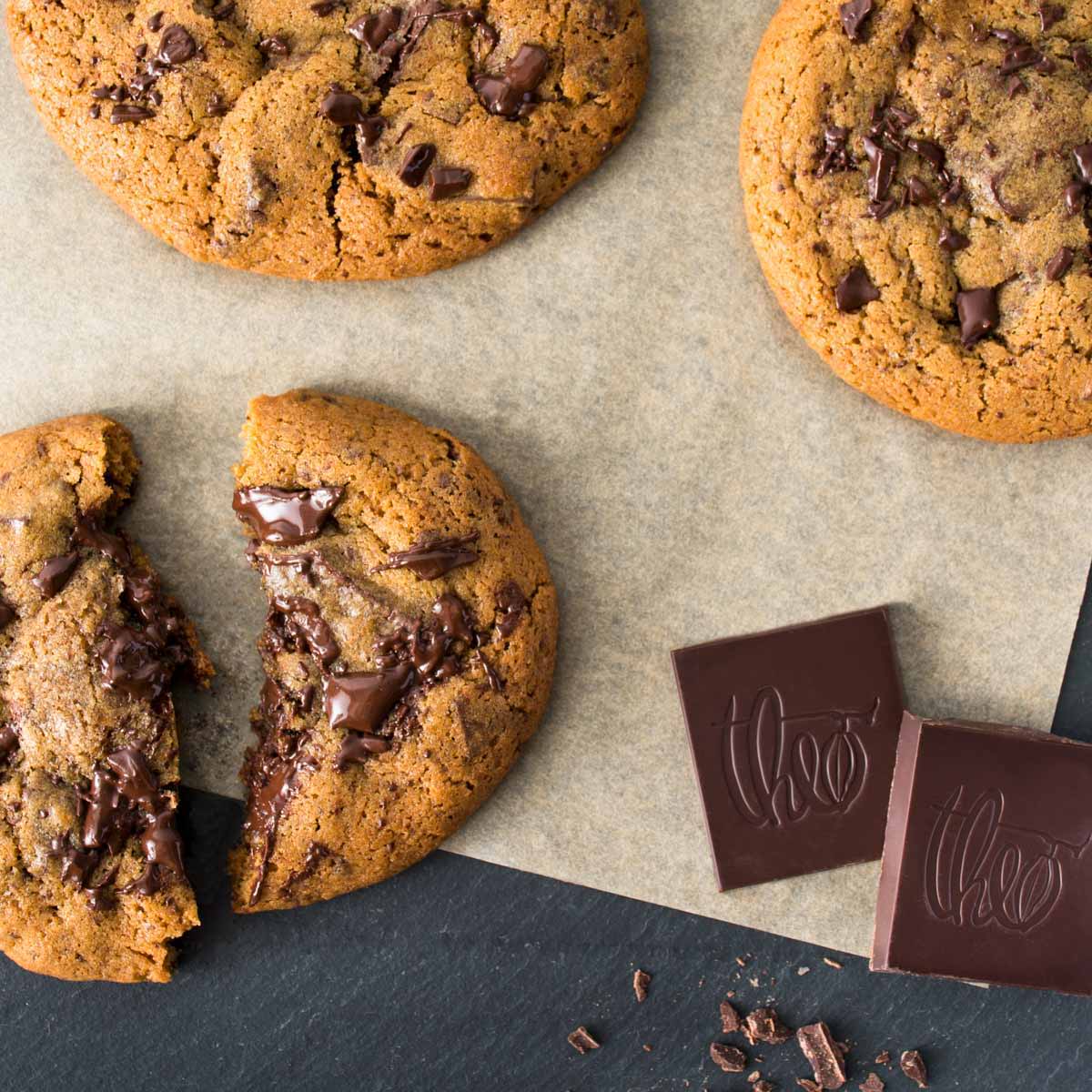 This recipe comes straight from our Confection Kitchen archive and is a tried and true classic. Plus, we always love a recipe that calls for simple ingredients that most people already have in their pantries.
2 ½ cup all-purpose flour
½ tsp baking soda, heaping
1 tsp salt
1 cup granulated sugar
1 cup brown sugar
2 sticks of unsalted butter, softened
2 eggs
2 egg yolks
2 tsp vanilla extract
14 oz or 3 ½ Bittersweet Baking Bar 70% Dark Chocolate, small chopped
Instructions (makes 36 cookies):
Start by whisking the flour, baking soda, salt together in a large bowl.

Using a hand or standing mixer, beat sugars and butter until the mixture is smooth. Add in eggs, yolks, and vanilla extract and mix slowly until well combined.

Add in dry ingredients in three batches. Make sure to scrape down the side of the bowl each time to ensure all ingredients are combined. Then mix in chopped chocolate. 

Cover and refrigerate for 30 minutes.

Preheat oven to 325F and line a cookie sheet with parchment paper. 

Take the dough out of the refrigerator. Roll the dough into golf ball-sized balls and space them evenly on the prepared cookie sheets. If you don't want to bake all the cookies, see recipe note 1.

Bake at 325 F for 15-17 mins. If you want perfectly-round cookies, see recipe note 2.

Enjoy!
You can freeze the extra dough balls in an airtight container for two months. When you pull them out of the freezer, let them get to room temperature before baking them.

As soon as the cookies are pulled out of the oven, place a large glass or a circular cookie cutter over the warm cookie and do a little swirl around on the parchment paper to get perfectly-round cookies!  

More of a milk chocolate lover? You can substitute the bittersweet chocolate for our Pure 45% Milk Chocolate.
Chocolate (and baked goods) just taste better when they're made the right way: from scratch & with a positive impact. Better baking starts with organic & fair trade Theo Chocolate Baking Bars.