Posted by Theo Chocolate on Nov 10th 2020
Your favorite holiday drink, now in cookie form!
We wait all year for peppermint mochas to pop up on our favorite coffee shop's menu. That's why we knew we wanted to recreate our favorite seasonal drink by adjusting our gooey mocha cookie recipe. Extremely chocolaty, tender, and fudgy, these cookies are the ultimate treat for a real chocolate lover.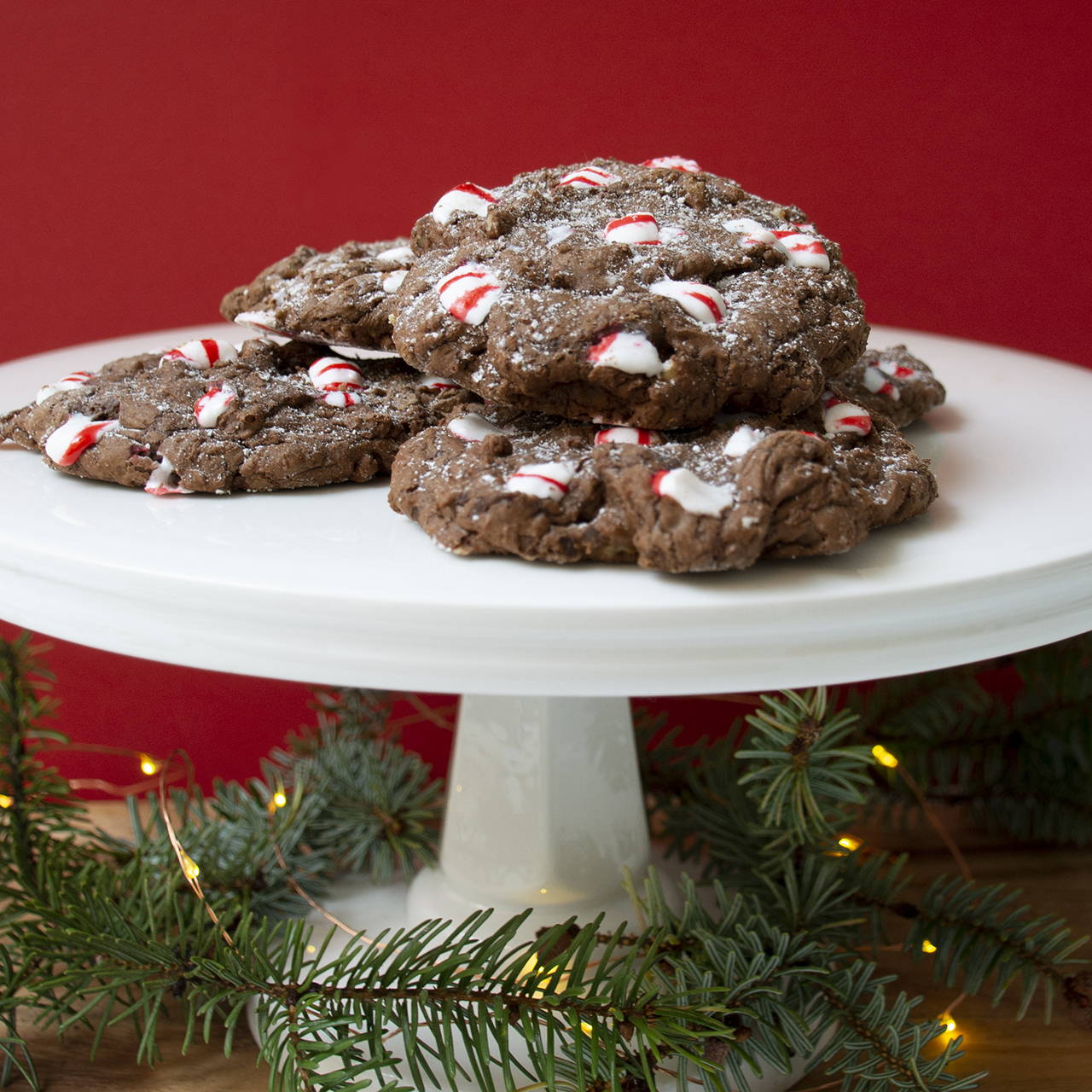 Ingredients:
10 ounces (roughly 3 1/3 bars) Theo Peppermint Crunch 70% Dark chocolate, chopped and divided
1/4 cup (1/2 stick) unsalted butter
1/3 cup (1 1/2 ounces) all-purpose flour
1/4 teaspoon kosher salt
1/4 teaspoon baking powder
1 tablespoon finely ground fair trade coffee beans
2 eggs, at room temperature
3/4 cup sugar
1 teaspoon vanilla extract
1 cup chopped walnuts, toasted (optional)
10 peppermint candy canes, crushed
1 teaspoon powdered sugar
Instructions (makes about 2 dozen cookies):
Preheat the oven to 375 degrees F. Line 2 baking sheets with parchment paper and set aside.
Melt 7 ounces of the chocolate with the butter in a double boiler and set aside to cool slightly.
Sift the flour, salt, and baking powder together into a small bowl, stir in the coffee, and set the bowl aside.
In the bowl of a stand mixer fitted with the whisk attachment (or in a bowl with a whisk by hand), whip the eggs and sugar together on medium speed until very thick and pale, 3 to 4 minutes (about 8 minutes by hand). Add the vanilla and mix well. Fold in the cooled chocolate mixture, then the dry ingredients, and finally the remaining 3 ounces chopped chocolate and the walnuts.

Use 2 spoons or a small cookie scoop to drop rounded table-spoons of batter 2 inches apart onto the prepared baking sheets. Top each cookie with crushed candy canes. Bake the cookies, one sheet at a time, until they're puffed, shiny, and cracked, 8 to 10 minutes. Let the cookies cool completely on the baking sheet—they will be very fragile. Then sprinkle on powdered sugar. Enjoy!