Posted by The Mindful Hapa on Feb 16th 2021
Don't get us wrong, we still love super fudgy brownies but these melty Peanut Butter Cup Blondies might be our new go-to dessert.
We asked Casey, the creative behind The Mindful Hapa, to create a recipe inspired by our organic and fair trade peanut butter cups. These bars are super fudgy, have less than 10 ingredients + take less than 30 minutes to whip up. The Dark Chocolate Peanut Butter Cups get super melty inside and on top of these bars and bake up to actual ooey-gooey perfection!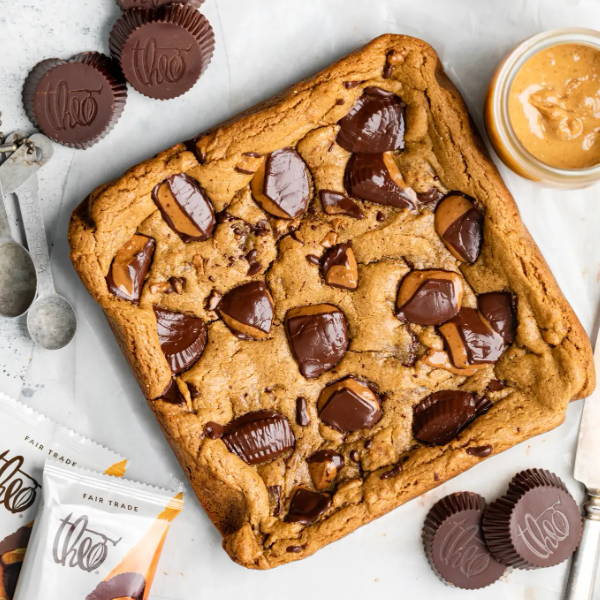 Wet Ingredients
1 egg
2/3 cup coconut sugar
1/4 cup maple syrup
2 tsp vanilla extract
1 cup natural peanut butter, unsalted
Dry Ingredients
Instructions:
Preheat the oven to 350F and line 8" x 8" pan with parchment paper.
In a large mixing bowl, whisk together egg, coconut sugar, maple syrup, and vanilla extract until combined. Add peanut butter and whisk again until smooth.
Add in your gluten free flour, baking soda, and salt. Stir until just combined. Add in half of the Theo Chocolate peanut butter cups that are roughly chopped and stir until just combined. Batter will be thick.
Move batter to the parchment-lined 8" x 8" pan and spread in an even layer. move to the oven and bake for 15 minutes.
After 15 minutes, remove and top with remaining half of the chopped dark chocolate cups. Bake for an additional 5-8 minutes. Remove and let cool completely before cutting into 9 pieces. Enjoy!