Posted by Casey from The Mindful Hapa on Nov 10th 2020
We can't get enough of this crunchy holiday snack mix!
No matter what you call it, we can all agree that this snack is simply delicious. Casey, the creative behind The Mindful Hapa, created this recipe for us last year using our Nutcracker Brittle 55% Dark Chocolate bar. We think this is perfect treat to package up and send to loved ones this holiday season.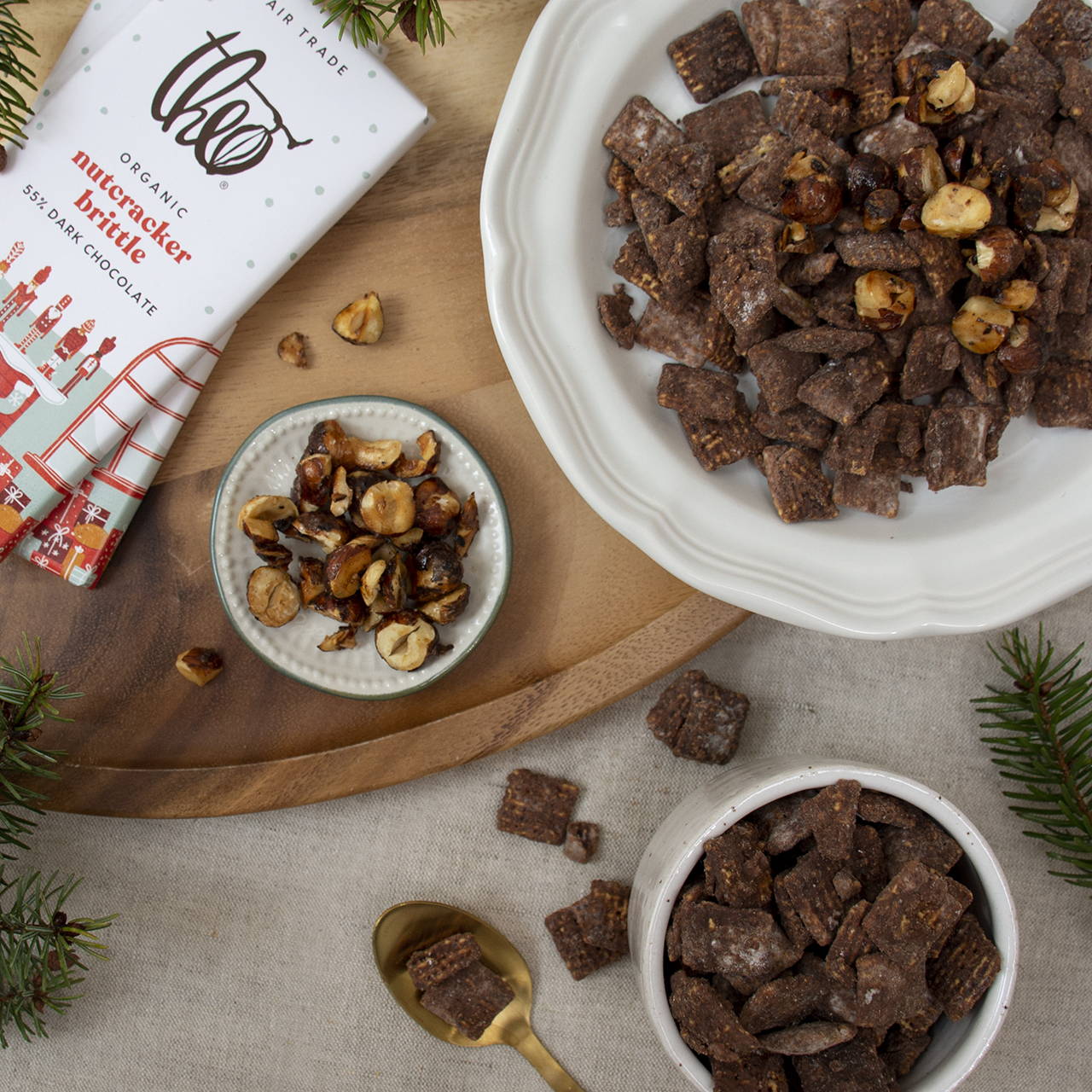 For Puppy Chow:
8 cups rice cereal
2 bars Nutcracker Brittle 55% Dark Chocolate, roughly chopped
2/3 cup cashew butter
2 tablespoons coconut oil
1 teaspoon vanilla
1/4 teaspoon salt
1 cup powdered sugar
1/4 cup unsweetened cocoa powder
For Candied Hazelnuts:
1 cup raw hazelnuts, roughly chopped
1 tablespoons granulated sugar or coconut sugar
1 tablespoon water
1 tablespoon vanilla extract
1/4 teaspoon ground cinammon
Pinch of salt
Instructions:
To a large mixing bowl, measure out 8 cups of rice cereal.
Over medium heat, add the two bars of Nutcracker Brittle 55% Dark Chocolate, cashew butter, coconut oil, vanilla extract, and salt to a small saucepan. Heat until chocolate is melted and all ingredients are combined.
Pour the chocolate mixture over 8 cups of cereal and gently stir to combine until all cereal pieces are coated in chocolate.
Transfer to a food-safe Ziploc bag and add the powdered sugar and unsweetened cocoa powder. Shake until all pieces are evenly coated. Remove from Ziploc bag and spread in a single layer on a parchment-lined baking tray to cool.
Lastly, start on your candied hazelnuts. To a small bowl, whisk together coconut sugar, water, vanilla extract, cinnamon, and salt. ⠀
Over medium heat, add chopped hazelnuts to a non-stick pan and cook for 2-3 minutes or until hazelnuts have started to brown and become fragrant. At this point, add coconut sugar/water mixture to the pan and stir until all pieces are evenly coated.
Transfer hazelnuts to a parchment-lined plate to cool.
Once cool, top Nutcracker Puppy Chow with candied hazelnut pieces. Store in an airtight container at room temperature for up to one week. Enjoy!