Posted by Theo Chocolate on Mar 17th 2021
We're letting you in on a Flagship Store secret recipe!
Every spring, employees and local Seattleites would flock to the Flagship Store for a chance to snag one of these irresistible Lemon Chocolate Shortbread Cookies. With a touch of lemon zest in the cookie, plus a whole square of our award-winning Lemon 45% Milk Chocolate on top… Are you drooling yet? This recipe is everything we love. It is simple, buttery and refreshing. Plus, you'll probably have most of these ingredients in your pantry!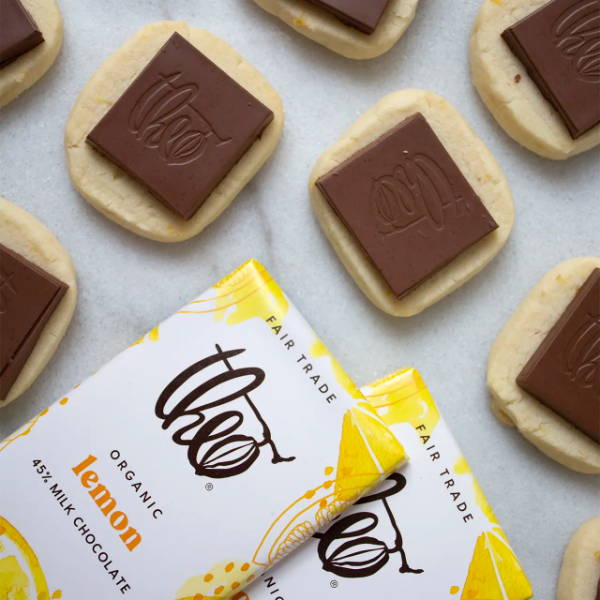 Note: Since this recipe was created by our professional chocolatiers, ingredient measurements are in grams. But for those that don't have a scale at home, we've also included rough conversions to cups and tbsps.
Ingredients:
227g or 1 cup Butter (room temperature)
270g or a little over 2 cups Pastry Flour
26g or a little less than 1/3 cup Powdered Sugar
54g or a little more than 1/4 cup Granulated Sugar
4g or a little more than 1/2 tbsp Salt
3g or 1/2 tbsp Lemon Zest
3x Theo Lemon 45% Milk Chocolate bars
Instructions (makes about 20 cookies):
Whip butter in mixer on medium until fluffy. Add lemon zest and salt. Mix until combined.
Add the sugars to the butter and mix on medium into butter until it is pale and really fluffy.
Add in flour and mix on low. Scrape bowl to ensure everything gets mixed. Continue to mix until well combined.
On parchment shape the cookie dough into 10" x 1 ½" square log. Let it chill in the refrigerator for 30 minutes.
Preheat oven to 325F.
Unwrap the chocolate bars and break or cut them at the score marks.
Take the cookie dough log out of the refrigerator. With a closed multi pastry wheel score the log into about 20 even cookies. Unroll from the parchment paper and finish cutting each cookie.
Space out cookies on a cookie sheet and bake in the oven for 10 minutes. Make sure you rotate the sheet after 5 minutes.
After the cookies have finished baking, pull the sheet out. Gently press 1 square of chocolate into the center of each cookie. Let them cool and then enjoy!