Posted by Theo Chocolate on Nov 10th 2020
Homemade chocolate bark makes the perfect holiday recipe because it's easy, versatile, and perfect for homemade gifts.
We are all looking for way to send holiday cheer this year. One of our favorite homemade treats to send our loved ones is chocolate bark. We've come up with some great toppings suggestions to add to our already delicious holiday chocolate bar flavors. Plus, this recipe teaches you how to temper chocolate, which is the first step to some of our other favorite recipes.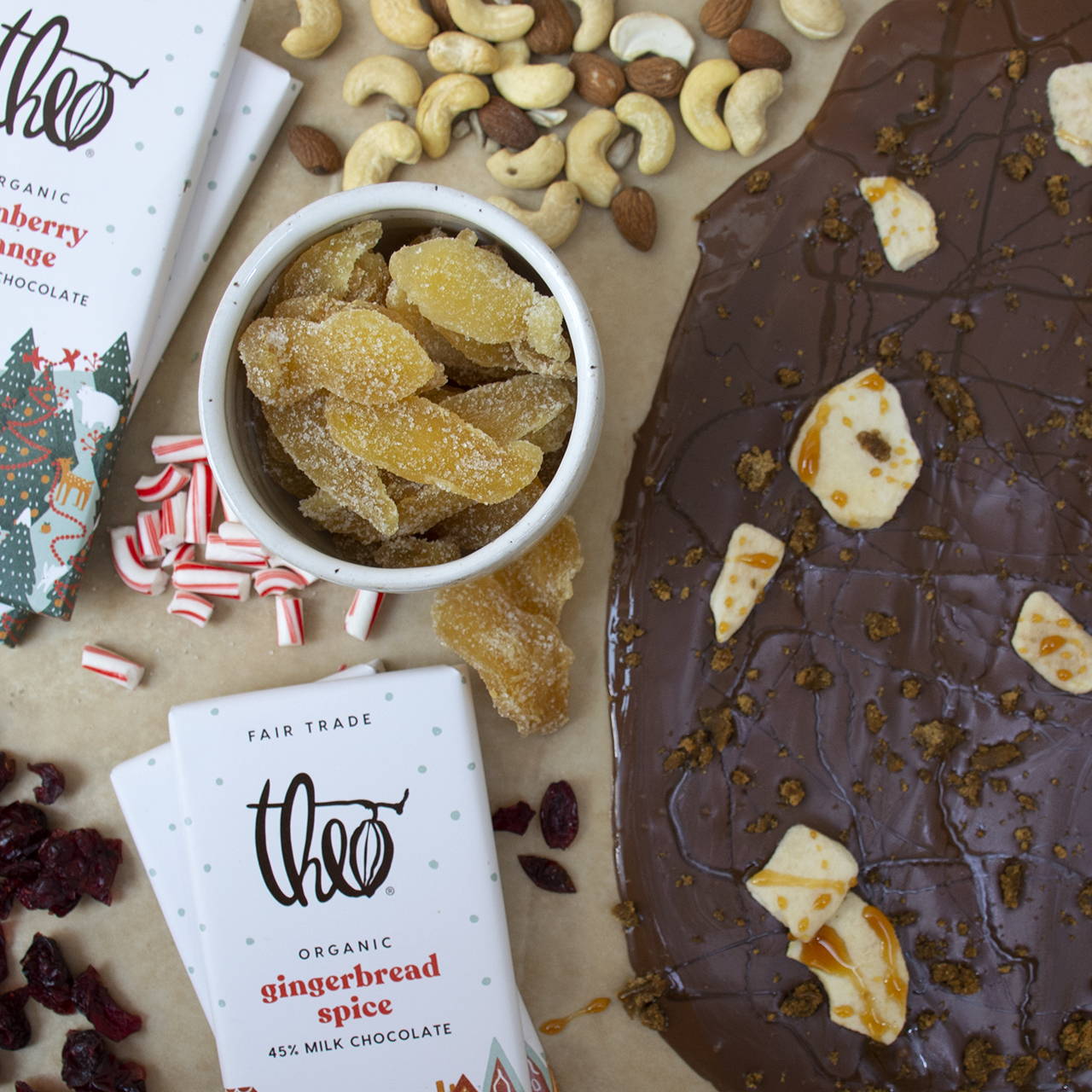 Ingredients: Choose your preferred flavor profile, inspired by our Holiday chocolate bars
Instructions:
Begin by finely chopping 6 bars of chocolate of your choice. Set aside about 1/4 of the chopped chocolate.
Double Boiler Method: Heat a couple inches of water in a large saucepan over low heat. Put ¾ of the chopped chocolate in a stainless steel or glass bowl large enough to sit securely in the saucepan without touching the water.
When the water comes to a simmer, turn heat to low and let the chocolate begin to melt. Stir the chocolate often, and when about two-thirds of it has melted, remove the bowl from the saucepan and dry the bottom of the bowl very well. Continue to stir the chocolate until it has melted completely and check that the temperature is at least 110 degrees F.
Seeding Method: Add 1 tablespoon of the reserved chopped chocolate and stir vigorously until it's completely melted. Repeat once or twice, and then check the temperature of the chocolate in the bowl. You're aiming for between 88 and 90 degrees F. If the chocolate is warmer than that, keep adding the chopped chocolate by the tablespoon and stirring it until it has melted completely, until you reach about 90 degrees F. As the chocolate nears temper, you'll notice that if you pull up a spoonful and let it drizzle back into the bowl, it will begin to make a small pile that will sit on the surface of the melted chocolate and slowly sink, rather than immediately pooling.
Making Chocolate Bark: Pour the melted chocolate on a large sheet of parchment paper, making the chocolate no thicker than ¼ inch. Add on toppings of your choice.
Let the chocolate bark sit and when the chocolate is no longer sticky, cut it into smaller pieces. Enjoy!