Posted by The Mindful Hapa on Mar 31st 2021
Loaded with nuts, melted dark chocolate, and minimally sweetened, you'll be reaching for this snack all day.
We are always looking for good ways to incorporate a little chocolate into all our meals. And this Chocolate Granola recipe by Casey, the creative behind The Mindful Hapa, is giving us some serious breakfast goals!
Feel free to swap out the nuts for whatever you've got in your pantry.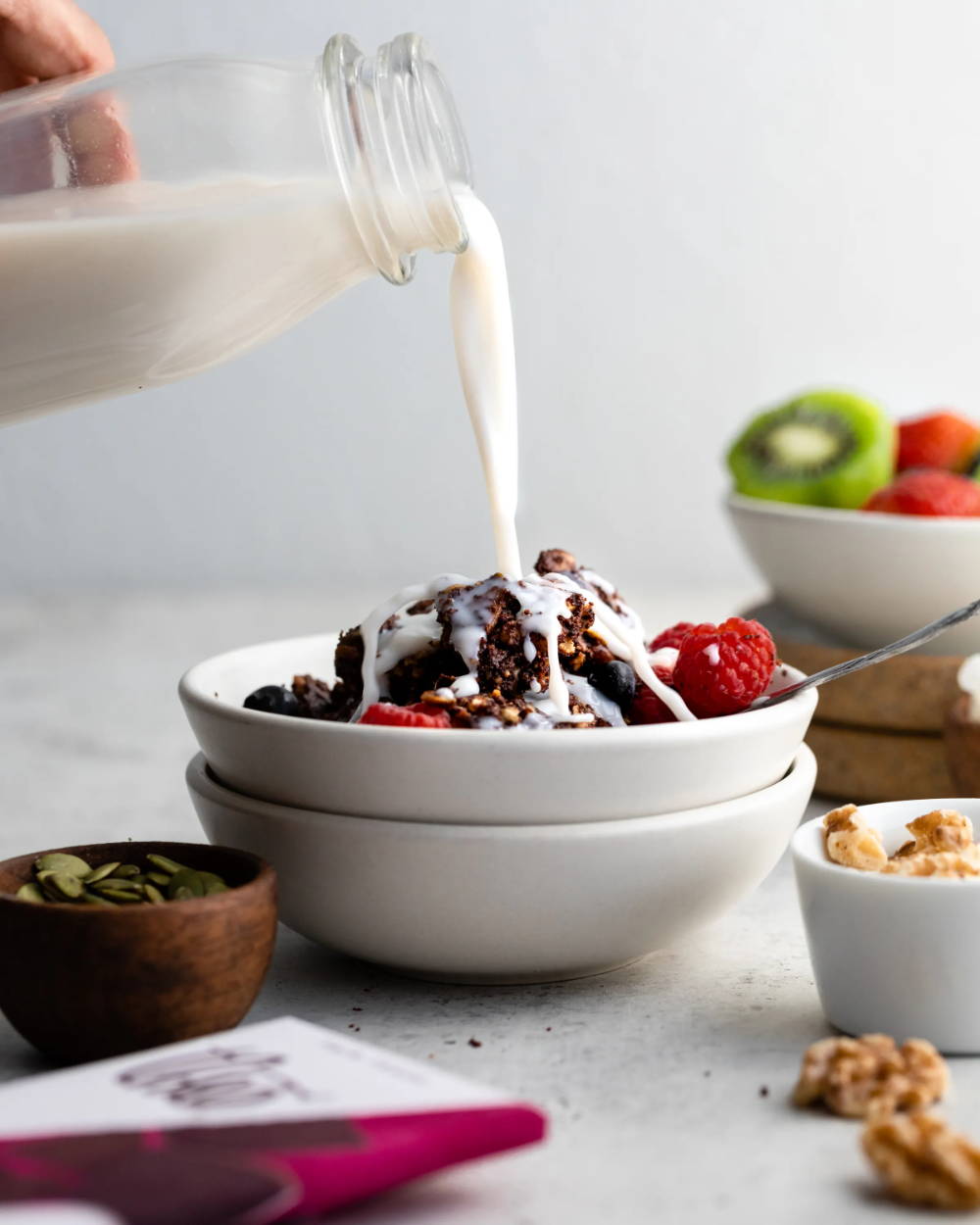 Ingredients:
½ cup raw pecan pieces⠀⠀
½ cup raw walnut pieces⠀⠀
½ cup raw sunflower seeds⠀⠀
½ cup raw pumpkin seeds⠀⠀
½ cup raw almond slices⠀⠀
½ cup raw cashew pieces⠀⠀
½ cup raw unsweetened coconut shavings⠀⠀
2 tbsp neutral vegetable oil
¼ cup raw cashew or almond butter ⠀⠀
⅓ cup coconut sugar⠀⠀
¼ cup water⠀⠀
1x Theo Pure 85% Dark Chocolate bar, chopped coarsely⠀⠀
½ tsp vanilla⠀⠀
¼ tsp salt⠀⠀


Instructions:
Preheat oven to 275 degrees.
In a food processor, add pecans, walnuts, almond slices, cashews, sunflower seeds, pumpkin seeds, and coconut. 3. Process briefly until the largest nut pieces are at most corn sized (4-5 pulses). Pour nut mixture into a large mixing bowl and set aside.
In a small saucepan, add water, coconut sugar, raw nut butter, and oil. Bring to a low boil on medium heat.
Remove from heat and stir in vanilla extract and chopped chocolate pieces until melted.
Pour liquid over nuts in mixing bowl. Toss together until well mixed. Sprinkle salt over the mixture and toss again.
Spread and press the mixture to an even ½" thickness, on a parchment-lined baking sheet.
Bake at 275 degrees for 45 minutes. Cool completely before breaking apart into chunks. Store in an airtight container at room temperature for up to 1 week.