Gooey Double-Chocolate Mocha Cookies
Posted by Theo Chocolate on Jan 27th 2022
Attention, serious chocolate devotees: this recipe is for you!
This cookie is a Flagship Store favorite. In fact, it sells out on a regular basis. Fudgy, tender and extremely chocolaty, this recipe is so good it won the 2012 CNN Fair Trade Chocolate Challenge.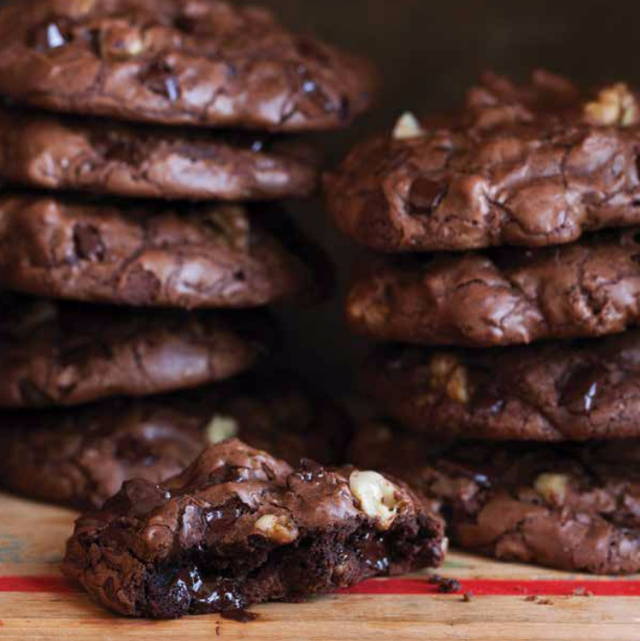 Photo Credit: Charity Burggraaf
Ingredients:
10 oz Pure 70% Dark Chocolate, chopped, divided

1/4 cup (½ stick) unsalted butter

1/3 cup (1½ ounces) all-purpose flour

1/4 tsp kosher salt

1/4 tsp baking powder

1 tbsp finely ground Fair Trade coffee beans

2 eggs, at room temperature

3/4 cup (5½ ounces) sugar

1 tsp vanilla extract

1 cup chopped walnuts, toasted (optional)
Instructions (makes about 2 dozen cookies):
Preheat the oven to 350 degrees F. Line 2 baking sheets with parchment paper and set aside.

Melt 7 oz of the chocolate with the butter in a double boiler and set aside to cool slightly.

Sift the flour, salt, and baking powder together into a small bowl, stir in the coffee, and set the bowl aside.

In the bowl of a stand mixer fitted with the whisk attachment (or in a bowl with a whisk by hand), whip the eggs and sugar together on medium speed until very thick and pale, 3 to 4 minutes (about 8 minutes by hand). Add the vanilla and mix well. Fold in the cooled chocolate mixture, then the dry ingredients, and finally the remaining 3 oz chopped chocolate and the walnuts.

Use 2 spoons or a small cookie scoop to drop rounded tbsp of batter 2 inches apart onto the prepared baking sheets. Bake the cookies, one sheet at a time, until they're puffed, shiny, and cracked, 8 to 10 minutes. Let the cookies cool completely on the baking sheet—they will be very fragile.