Posted by Ashley from the Fit Mitten Kitchen on Nov 3rd 2020
Thanksgiving is right around the corner and we are always looking for new ways to add pumpkin to the mix.
These easy fall-inspired brownies from Ashley of Fit Mitten Kitchen are the perfect combination of two dessert favorites. Plus, these treats are dairy-free and grain-free too, so everyone in the family can enjoy!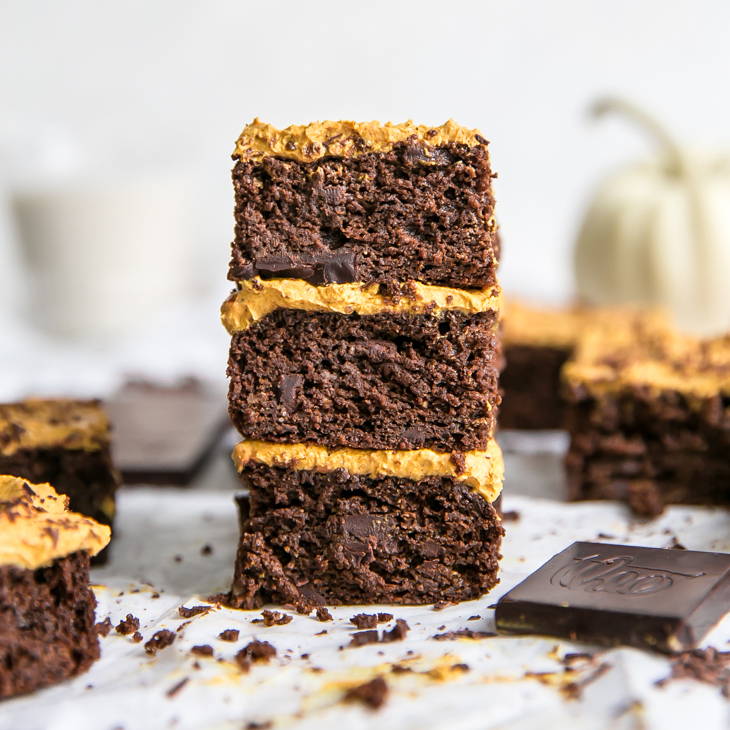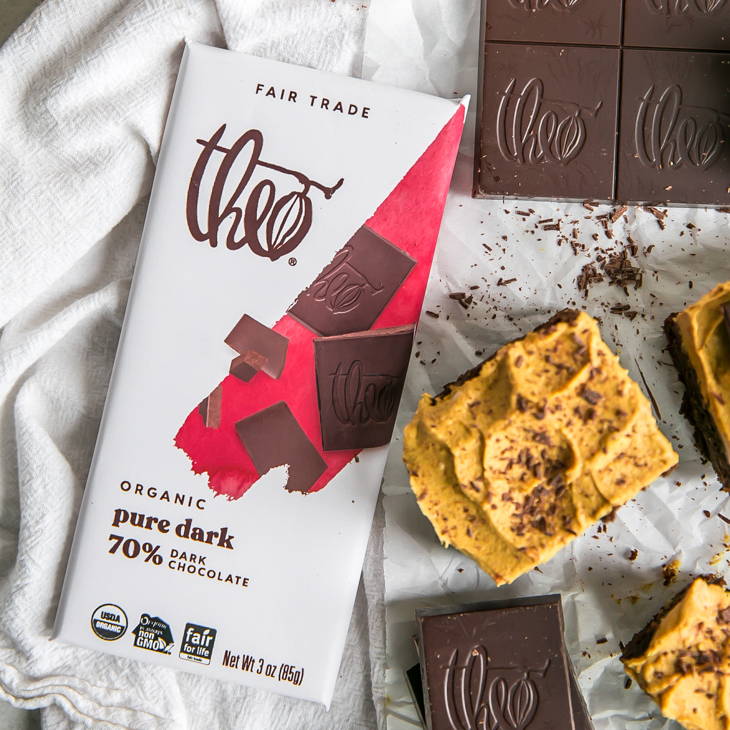 Ingredients:
1/3 cup unsweetened cocoa powder⁠⠀⠀
1/2 tsp baking soda⁠⠀⠀
1/2 tsp salt⁠⠀⠀
2/3 cup nut or seed butter
2/3 cup canned pumpkin⁠⠀⠀
1/3 cup + 1 TBSP maple syrup⁠⠀⠀
1 large egg⁠⠀⠀
1 large egg yolk⁠⠀⠀
1 TBSP vanilla extract⁠⠀⠀
3 oz Theo Chocolate Pure Dark 70% dark chocolate, finely chopped⁠
10oz container Organic Vanilla Frosting
Orange food dye
Instructions:
Preheat oven to 350ºF and line 8x8 pan with parchment paper; set aside.⁠⠀⠀
In a small mixing bowl combine cocoa powder, baking soda, and salt; set aside.⁠⠀⠀
In a large bowl using an electric mixer or stand mixer fitted with a paddle attachment, mix together nut/seed butter and pumpkin until combined. Add maple syrup, egg, egg yolk, and vanilla and mix on medium speed until smooth. Add in dry ingredients, mixing on low speed or using a rubber spatula to fully combine. Fold in chopped chocolate.⁠⠀⠀
Bake for 20-25 minutes, until inserted toothpick in center comes out clean. Do NOT over-bake. Check on brownies at about the 18-minute mark.⁠
Make sure to allow brownies to cool in the pan for at least 1 hour at room temperature before enjoying. (You'll have to practice patience here!) Or try popping in the fridge for about 30 minutes or so. ⁠

Add 2-4 drops of orange food dye into the Vanilla Frosting and stir until mixed. Spread frosting across the top. Then use a large, sharp knife to cut into squares. ⁠Enjoy!