Double Chocolate Peanut Butter Cup Banana Bread
Posted by Casey from The Mindful Hapa on May 5th 2021
We know that Banana Bread was all the rage last year, but still can't get enough of it, especially an extra fudgy version.
This Banana Bread recipe that Casey from The Mindful Hapa created is perfectly moist and is made for chocolate & peanut butter lovers.
"It's moist and sweet enough to be a healthy dessert or indulgent breakfast + it pairs very well with a cup of coffee or cold milk! And I'm not even joking when I say I "tested" this recipe at least three times before I was able to save it long enough to photograph. It's just too good to save!" - Casey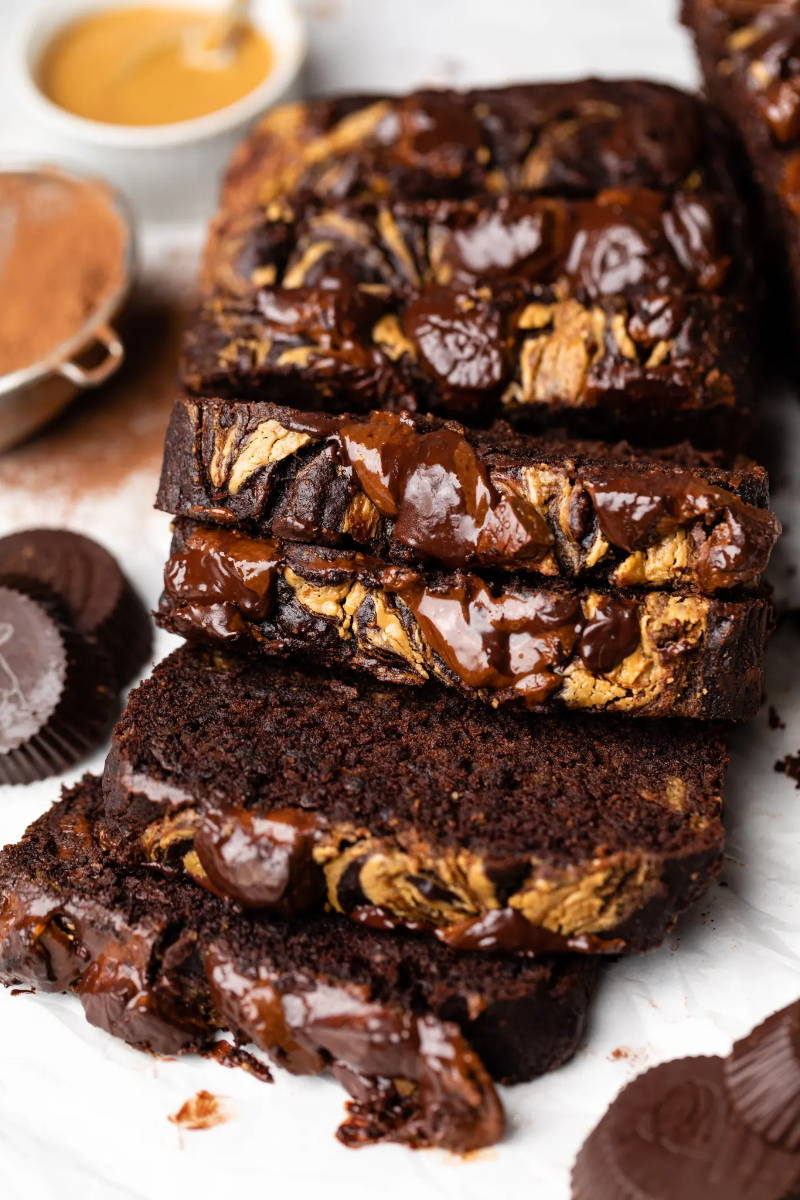 Ingredients:
1 cup Gluten Free flour (must be a 1:1 gf baking flour replacement)
¾ cup almond flour
⅓ cup unsweetened cocoa powder
2 tsp baking soda
¼ tsp salt
⅔ cup coconut sugar
2 ea large eggs
2 ⅓ cup very overripe bananas, mashed (~5 medium or 4 large)
½ cup coconut oil, melted and cooled
2 tsp vanilla extract
8 ea Theo Chocolate Double Chocolate Peanut Butter Cups (4, 2-packs, rough chopped)
2 tbsp peanut butter
Instructions:
Preheat the oven to 350F and line a 9" x 5" loaf pan with parchment paper.
In a small bowl, whisk together the gluten free flour, almond flour, cocoa powder, baking soda and salt. Set aside.
Next, in a medium mixing bowl, whisk together coconut sugar and eggs. Add mashed bananas and stir until combined. Whisk in melted coconut oil and vanilla extract until well combined.
To the mixing bowl, fold in dry ingredients just until moistened.
Last, gently stir in chopped dark chocolate PB cups until just combined.
Pour batter into the parchment lined 9"x 5"loaf pan. Dollop a few tablespoons of peanut butter on top of batter and swirl. Move to the oven and bake at 350F for 30 minutes.
After 30 minutes, remove from oven and top with 2 chopped pb cups
Move back to the oven and bake for an additional 25 - 30 minutes, or until a toothpick inserted in the middle comes out clean (try to avoid inserting into a piece of chopped PB cup). Enjoy!