Andrew's Chocolate Pasta Sauce
Posted by Andrew on Feb 2nd 2022
Chocolate & red sauce? Not as crazy as you might think. In fact, it is absolutely delicious.
As a Class Host for our popular Virtual Chocolate Tasting Classes, Andrew G. is an expert at bringing people together to explore new flavor combinations. Class attendees love him not only because of how outgoing and engaging he is in classes, but because he is also extremely knowledgeable about chocolate and food.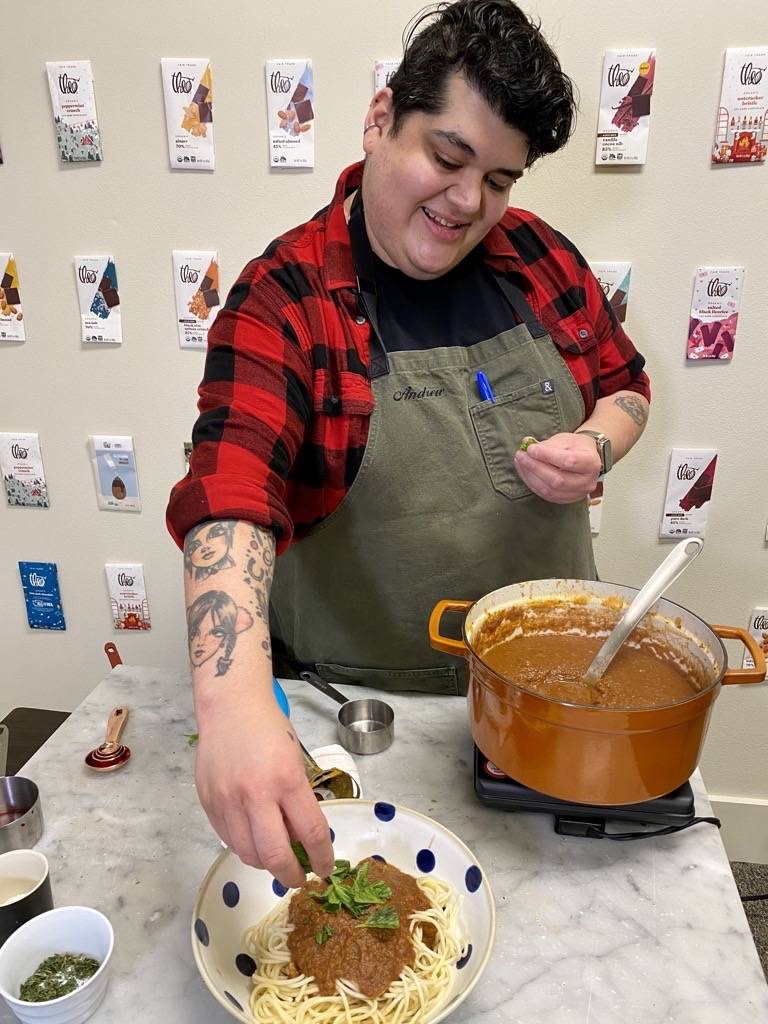 And when people find out he is a trained chef, the next question he usually gets is: "How can I add chocolate in unexpected ways to my cooking and baking?" Andrew's answer often surprises everyone – Chocolate Pasta Sauce!
Using dark chocolate in savory dinners, especially tomato-based dishes is a no-brainer for Andrew. Check out this video to learn more about how our Pure 85% Dark Chocolate enhances the flavors in this easy pasta sauce recipe.
"I love this recipe because it's rich, delicious, and uses approachable ingredients in its base. This recipe makes a LOT of sauce, which is great because it can be used in multiple types of pasta dishes like lasagna and baked ziti. It also freezes well to use later. Bon appétit, friends!"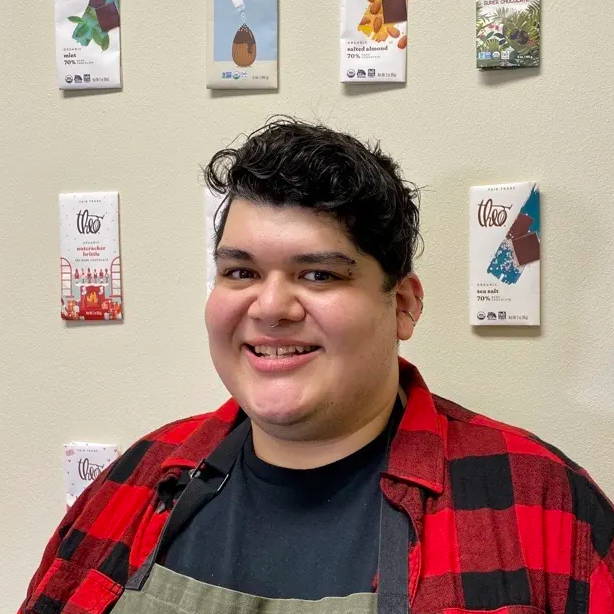 "Food brings people together and I love seeing the smiles and hearing the laughter of friends when sharing a homemade meal."
– Andrew G.
This recipe is vegan, but feel free to add any of your favorite cooked protein in there, too!
1 tbsp extra virgin olive oil
3 medium onions, diced
4 celery sticks, diced
1 large carrot, diced
9 cloves of garlic, finely chopped
1/2 cup of basil, chopped
4 tsp dried or fresh thyme
4 tsp dried or fresh oregano
3 bay leaves
2-3 tsp salt
2-3 tsp pepper
5 lbs of roma tomatoes, peeled and cut in half. (See recipe note 1)
1 cup of cabernet sauvignon (optional)
4 squares of Theo Chocolate Pure 85% Dark Chocolate, chopped
1. In a stock pot or Dutch oven, heat olive oil on medium-high heat. Add onions and sweat until translucent for about 5 minutes.
2. Mix in celery and carrots and continue to sweat for 3-4 minutes or until tender.
3. Mix in garlic and cook until fragrant. Then add basil, thyme, oregano, bay leaf, salt, pepper, and tomatoes and mix well.
4. Let the pot simmer on low for two hours, stirring every 20-30 minutes.
5. Taste the sauce and add more salt and pepper to taste. Simmer for another 45 minutes to an hour.
6. Using an immersion blender blend until smooth. (see recipe note 3)
7. Mix in cabernet sauvignon and cook on low-medium heat for 10 minutes then add chocolate chunks and stir until melted. If you want to include pre-cooked protein, add that in now too. Remove from heat and serve over your desired dish.
To peel, cut X on top of the tomatoes and drop into boiling water for 10 seconds. Immediately move into an ice bath. The tomato skin will peel off easily. You can also use canned peeled tomatoes to save time!

Alcohol will burn off while cooking, so it is safe for kids to enjoy the finished sauce.

Blend time is determined by how chunky or smooth you like your pasta sauce. We recommend a smoother texture for this recipe.