Posted by Inspired with a Twist on Mar 17th 2021
With floral and aromatic flavors, this Cardamom and Rose Brioche Doughnut with Dark Chocolate Glaze recipe smells and tastes as good as it looks.
We asked Ana from Inspired with a Twist to create a spring inspired recipe, which could either work as a Mother's Day treat or just a simple way for people to look forward to sunny spring mornings.
"With Spring right around the corner, I wanted to bake something with edible flowers but still incorporate dark chocolate and make sure that the flavors didn't overpower each other. I chose to make a vanilla and rose cream filled cardamom Brioche doughnut with a dark chocolate glaze. It's perfect because it's not too sweet of a dessert, the doughnut itself is so light and airy and the addition of the filing and the dark chocolate just makes you jump for joy!" -Ana .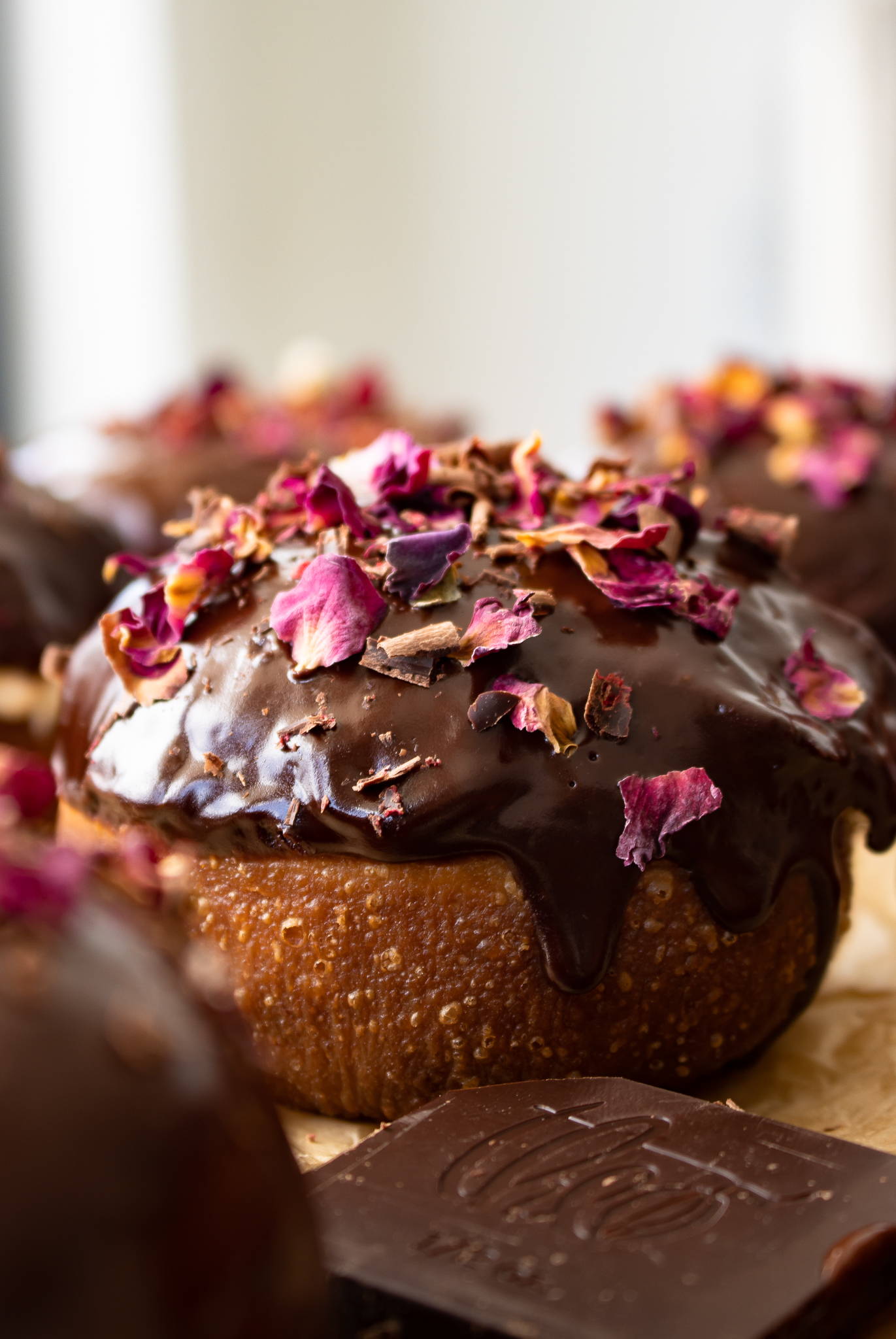 Doughnut Ingredients:
• 1/4 cup sugar
• 3/4 cup lukewarm milk (I used oat but use your choice)
• 2 tsp yeast
• 3 eggs at room temperature
• 500g all-purpose flour, plus extra for dusting (4 cups + 2 tbsp)
• 1 tbsp rose syrup
• 2 tsp cardamom
• 2 tsp vanilla extract
• 100g butter, softened at room temperature (1 stick)
• 2 liters vegetable oil (1/2 gal)
Vanilla Cream Ingredients:
• 1 cup VERY COLD heavy whipping cream
• 2 tbsp cane sugar (add another tbsp for a sweeter cream)
• 1 teaspoons vanilla bean (seeds removed)
• 1 1/2 tsp rose syrup
Dark Chocolate Glaze Ingredients:
• 2x Theo 4oz Chocolate for Baking Bars ( either 70% Dark or 85% Dark Chocolate)
• 1/3 cup cream
• 1 tsp vanilla extract
Instructions:
To make the doughnuts: add sugar and yeast to the lukewarm milk in the bowl of your stand mixer. Allow the mixture to sit 5-10 mins or until the mix is foamy or starts to bubble.
Using the dough hook, add the eggs, rose syrup, vanilla and cardamom to the yeast mixture. Then slowly add all the flour. After about 5 minutes, add the salt. Slowly incorporate the butter cubes and knead well until dough is glossy and smooth but slightly sticky to the touch. Grease a large bowl and place the dough ball inside.
Cover the bowl with cling film and leave to proof at room temperature for about 2 hours, or until doubled in size. Punch down the dough, then re-cover the bowl. If you have the time, after the first rise, put the dough in the fridge to chill overnight. If you don't, that's ok too.
Line 2 baking sheets with parchment. Lightly flour a work surface and cut the dough into even pieces. Shape each piece of dough into a smooth, tight bun and place on a baking tray lined with parchment paper and dusted with flour. Leave plenty of room between the doughnuts to proof. Cover lightly with cling film and leave for about 2 hours, or until about doubled in size.
To fry the doughnuts: in a heavy-bottomed large pot or deep fryer, heat at least 2 inches of oil until a deep-fry thermometer registers 350 degrees F. Carefully remove the doughnuts from the baking tray, take care not to deflate them, and put them into the oil. Fry, flipping once, until light golden brown, 2-3 minutes per side. When done, transfer to a wire rack to cool. Make sure to return the oil to 350 degrees F between batches. Let the doughnuts cool completely before filling.
To make the cream: add the heavy whipping cream to a large mixing bowl. Using an electric mixer, whip the cream until soft peaks start to form, turn off the mixer and add the vanilla bean, sugar and rose syrup—turn the mixer back on and mix until stiff peaks form. Spoon the cream into a pastry bag fitted with a tip or just use a ziplock bag with the corner snipped off. Pierce the base of each cooled doughnut with piping tube and pipe a little filling into each doughnut.
To make the chocolate glaze: Chop up the chocolate and combine the milk in a microwave-safe bowl. Microwave, stirring every 45 seconds, until melted. Stir in the vanilla and Let cool for about 5 minutes.
Dip or drizzle the doughnuts in the glaze. Top with chocolate shavings and edible rose petals. Enjoy!