We love sharing our passion for chocolate, and with virtual classes, we're able to connect with you live online for a delicious chocolate experience.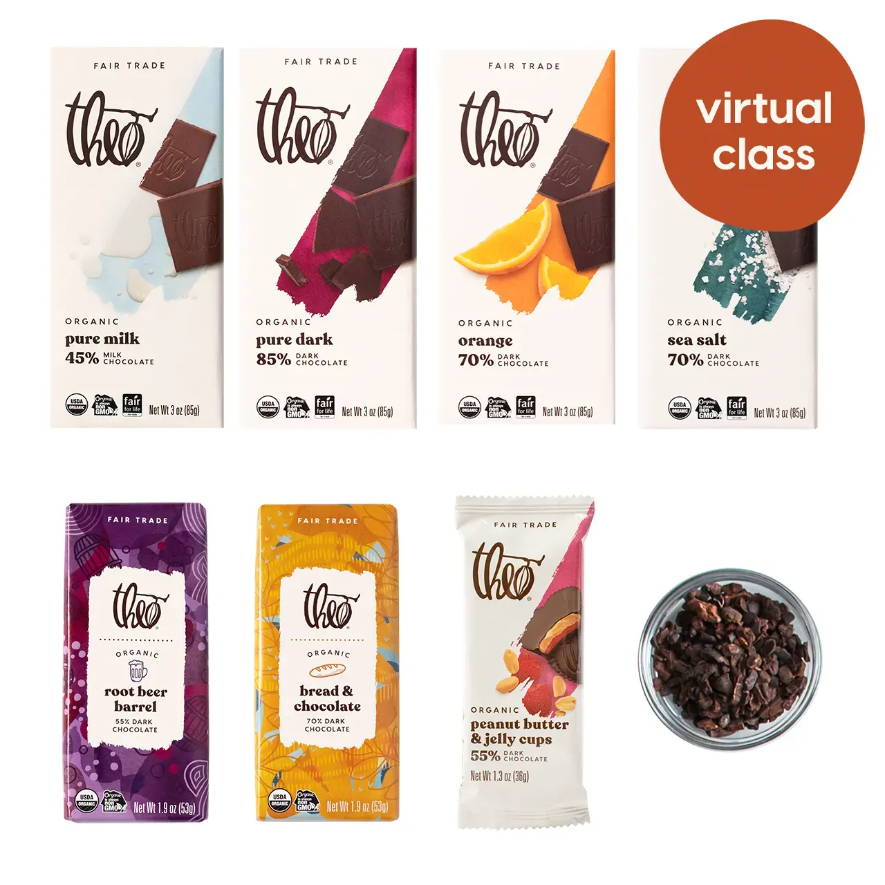 Virtual Chocolate Tasting Class
Join our chocolate experts for a delicious, hour-long virtual class with everything you need to taste along shipped right to your door.
Looking for the perfect activity for your group? Explore our private class and experience options - including virtual - that are perfect for groups of all kinds.
Can I buy chocolate from the store and take a class?
No. Our interactive class experience is built around a specially curated assortment of chocolate treats that are included in the supplies kit for each class. Trust us, you'll want to try each one!
Do you have a recorded video we can watch instead of live?
No, at this time all of our virtual classes are held live, so you can taste alongside our chocolate experts and have an interactive experience to ask any questions you may have. But we hope to add an on-demand class in the future!
What happens if I can't make my selected class date?
How will I be able to join my class?
We send out a welcome email that contains the unique Zoom link to join your class the week of that class. So you should expect the Zoom link to be in your email on that Monday. We've noticed that it can end up in the junk/spam folder, so check there first, and then reach out to us if you haven't received it by Wednesday.
Do you ship class kits internationally?
At this time we unable to ship internationally or to APO/FPO addresses. This includes Canada.
How long is a Virtual Class?
Our Virtual Tasting Class is about an hour long.
What time zone is my class time?
Our factory and offices are in Seattle, WA and all class times are in Pacific Time.
Virtual Chocolate Tasting Classes
Who doesn't want an excuse to eat chocolate for fun? Join us for our virtual chocolate tasting classes! Theo Chocolate offers an interactive virtual chocolate-tasting experience for an opportunity to get together with fellow chocolate lovers, learn about our bean to bar process, and interact with others while tasting delicious chocolate.
When you purchase our chocolate tasting class, you will receive admission to one tasting session along with a chocolate tasting kit that will be delivered directly to your doorstep prior to the date of your class. For your convenience, you have the freedom to choose the date of your session so that the chocolate-tasting experience fits in with your busy schedule.
We also offer private events that are ideal for large groups! By joining us for our private virtual chocolate tasting classes, you will enjoy a casual virtual get-together with friends, coworkers, or family to taste our assortment of flavorful, made-from-scratch chocolate.