Sunrise Smoothie with Roasted Cocoa Nibs
Posted by The Theo Team on Sep 25th 2022
A delicious on-the-go smoothie topped with crunchy, flavorful cocoa nibs.
This tasty, slightly tart smoothie is a great option when you're looking for a refreshing treat that's not too sweet and has a nice complementary crunch. You can substitute in favorite seasonal fruit and adjust tartness as needed to create your perfect sip.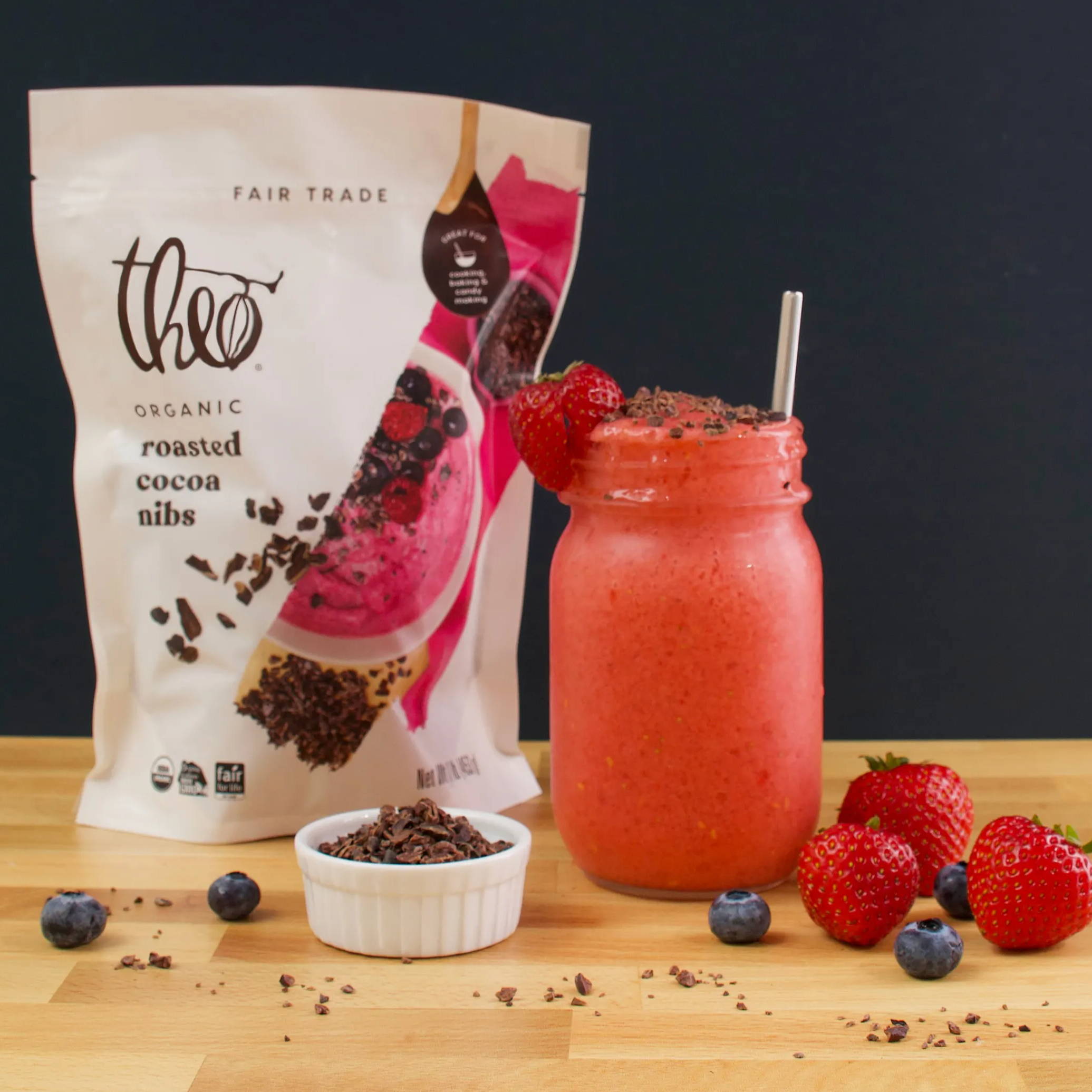 ¼ cup chilled hibiscus tea (or to desired tartness)
1 cup raspberries, cleaned
2 cups strawberries, cleaned
1 banana
1 cup guava juice
2 tsp honey
juice from ½ an orange
2-3 cups ice
2-3 tbs Theo Roasted Cocoa Nibs
Start by steeping 1 hibiscus tea bag in ½ cup boiling water for 4-5 mins. Remove tea bag and allow to cool, then refrigerate until cold. This can be made in advance and kept refrigerated up to a week.

Add raspberries, strawberries, guava juice, half of the chilled hibiscus tea, banana, honey, and orange juice to blender. Blend until smooth.

Add the ice, one cup at a time, blending thoroughly after each addition. Stop at two cups unless you prefer a thicker smoothie, then add the third cup.

Pour into your favorite glass and top with Theo Roasted Cocoa Nibs.

For an extra crunch inside the smoothie, blend a few tablespoons of nibs into the smoothie itself during the addition of ice.

Add more hibiscus tea as needed to reach desired tartness level and garnish with fresh fruit.