Peanut Butter & Horchata S'mores Bars
Posted by Ana from Inspired with a Twist on Jul 18th 2021
National S'mores Day is around the corner, which means we are looking for twists on our favorite ooey-gooey summer treat.
"So S'mores are of course the ultimate summer treat (besides, ice cream) so when I thought about making S'mores, I wanted to elevate them a bit by adding creamy peanut butter and turning them into bars and to add the cherry on top, I used Theo's Cinnamon Horchata 45% Milk Chocolate bar.
This no bake S'mores bar is ALL ABOUT THE LAYERS! every layer is perfectly sweetened and they all complement each other so well."
– Ana from Inspired with a Twist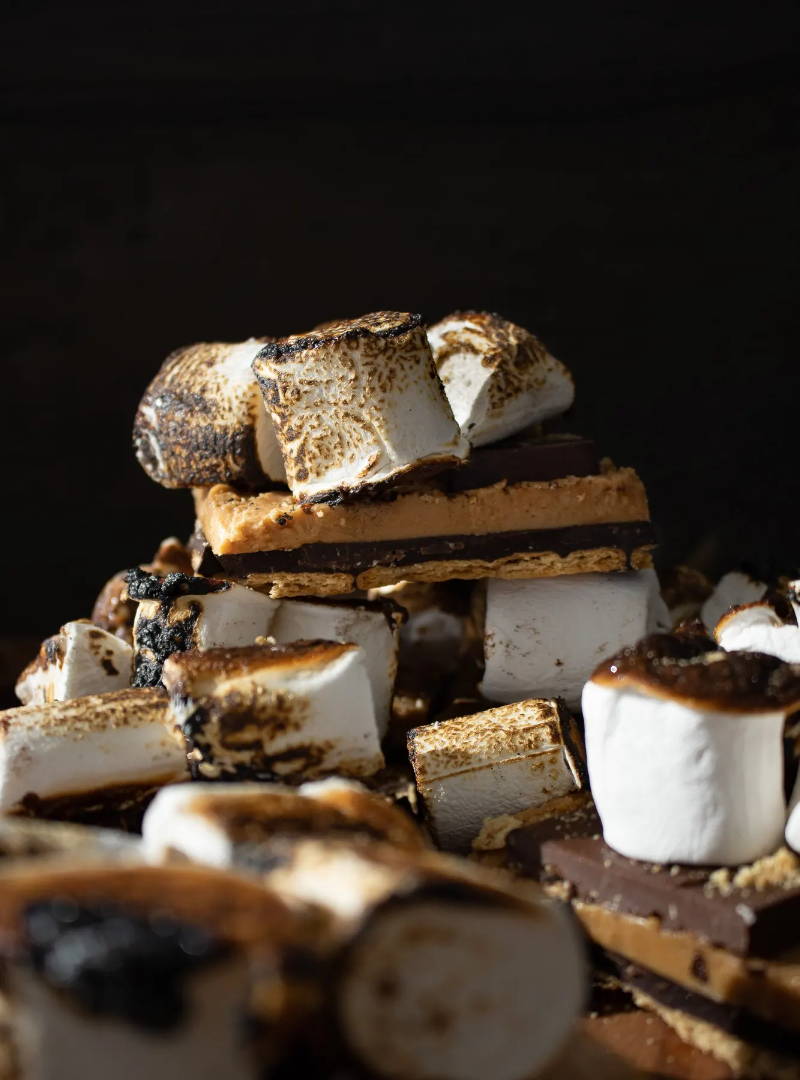 Ingredients:
Graham cracker sheets
1 1/2 cups chopped Pure 70% Dark Chocolate bars
1/2 cup chopped Pure 45% Milk Chocolate bars
1 tbsp coconut oil
1 3/4 cups creamy unsalted peanut butter
1/2 cup unsalted butter softened, 1 stick
4 tsp vanilla extract
1/4 cup (or more) maple syrup
Large marshmallows
Instructions:
Line an 8x8 inch square baking pan with butter and parchment paper.
Fill the bottom of the pan with graham crackers, you may have to break some graham cracker pieces to fit into the pan.
To make the first second chocolate layer, place the dark chocolate, milk chocolate and the coconut oil in a bowl over a small sauce pan. Heat over low heat, stirring often until melted and smooth. Alternately, you can do this in the microwave on 30 second intervals. Pour and spread the chocolate mixture over the graham cracker layer and tap against the counter until the chocolate is in a smooth and even layer. Cover and place in the freezer for 15 minutes or until it hardens.
In a medium bowl, mix together the peanut butter, 2-3 tablespoons maple syrup (according to your taste), and remaining vanilla. Mix until smooth. Spread the mixture over the chocolate and transfer to the freezer and freeze until firm, at least 30 minutes to an hour.
Take the Cinnamon Horchata bars and layer them over the top of the peanut butter mixture. Place it back into the freezer for another 10 min.
When ready to serve, remove the bars from the freezer, slice them in however many pieces you'd like and add the marshmallows to the top of the bars and toast them using a kitchen torch. Alternately, you can place the marshmallow on a parchment lined baking sheet and toast them under the broiler for 1 minute on high. Enjoy!