Posted by The Mindful Hapa on Sep 13th 2021
We are looking forward to warm, ooey-gooey baked treats as we head into cooler weather, but we are still holding on to one of our favorite parts of summer: s'mores!
Casey, the creative mastermind behind The Mindful Hapa, created this recipe so that you could enjoy summer a little longer. This no-mess recipe only requires 1 bowl & 1 skillet and you should have most of the ingredients in your pantry. Enjoy!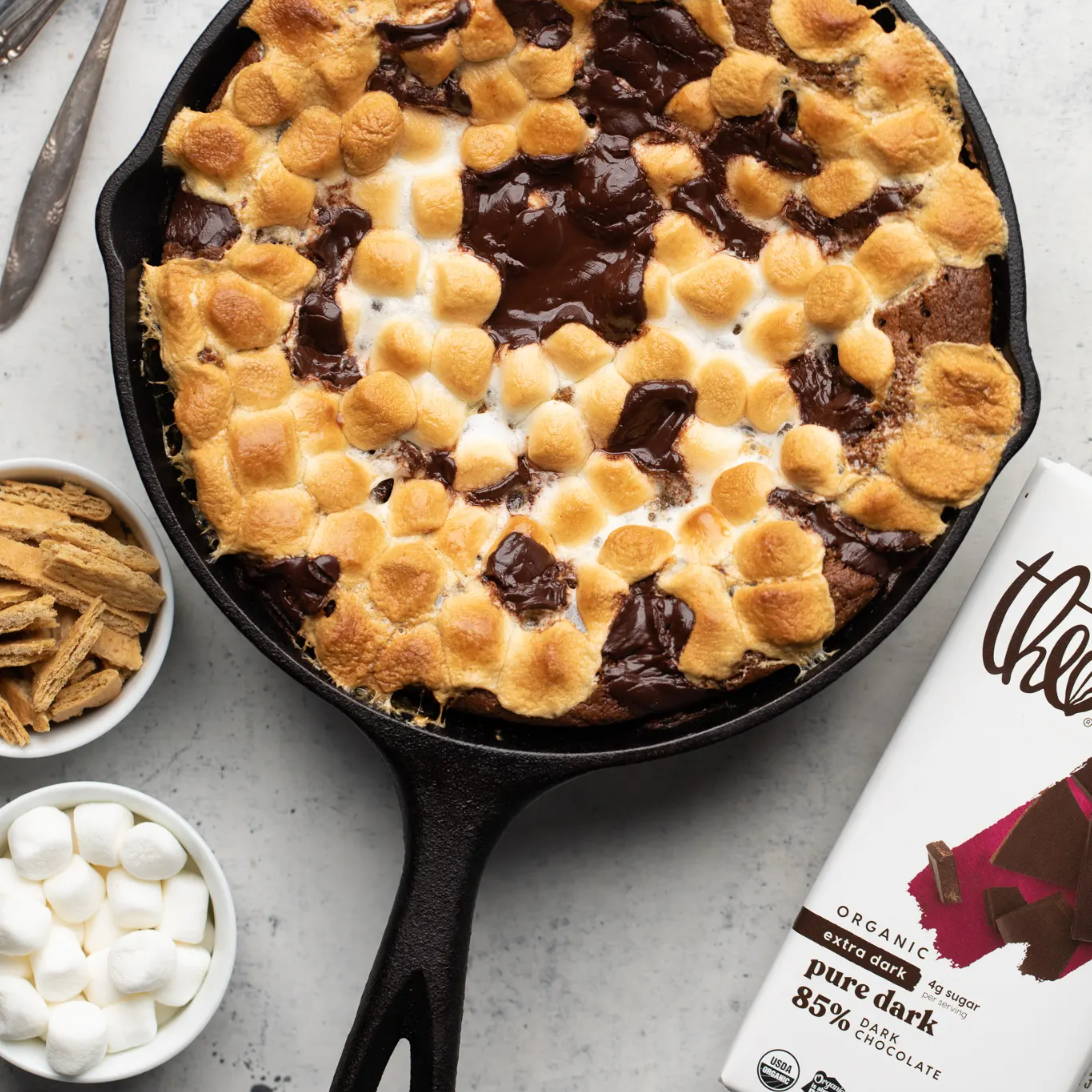 Ingredients for Cookie Batter Base:
1 cup natural peanut butter (unsalted)
1 large egg
2/3 cup coconut sugar
1/4 cup maple syrup
2 tsp vanilla extract
1/3 finely chopped graham crackers (chopped to flour like consistency; 1 1/2 - 2 sheets of crackers)
1/4 tsp salt
1/2 tsp baking soda
Ingredients for Toppings:
Instructions:
Preheat the oven to 350F and grease a 6" cast iron skillet with coconut oil.

In a large mixing bowl, add the peanut butter, egg, coconut sugar, maple syrup, and vanilla extract. Blend together with a hand mixer or wooden spoon until combined.

Add in your graham cracker 'flour', baking soda, salt, and stir until just combined. Batter will be very thick.

Spread half of the cookie batter in the cast iron skillet, using your hands to press into an even layer. Top with a layer of Theo Chocolate bars (~1½ bars)

Cover with the remaining half of the cookie batter. I found it easiest to make into a large / flat patty, and then gently flattened with my hands

Top with mini marshmallows and extra ½ bar of chopped

chocolate

.

Move to the oven and bake for 40-45 minutes, or until marshmallows and edges are browned and have started to pull away from the sides. A toothpick inserted in the side should also come out mostly clean, but it does not need to be totally crumb-free or clean as you don't want to overbake this skillet! Bake for 40 minutes if you prefer a fudgier cookie.

Remove from the oven and serve warm. Enjoy!