How to Gift Wrap More Sustainably
Posted by Theo Chocolate x Wrappr on Nov 23rd 2021
We are excited to announce that we are partnering with Wrappr this Holiday season. Taking inspiration from the nostalgic winter wonderland that we created for our Holiday products, we designed our Winter Wonderland furoshiki wrap to be a beautiful option for people looking to make the switch to a more sustainable wrapping solution.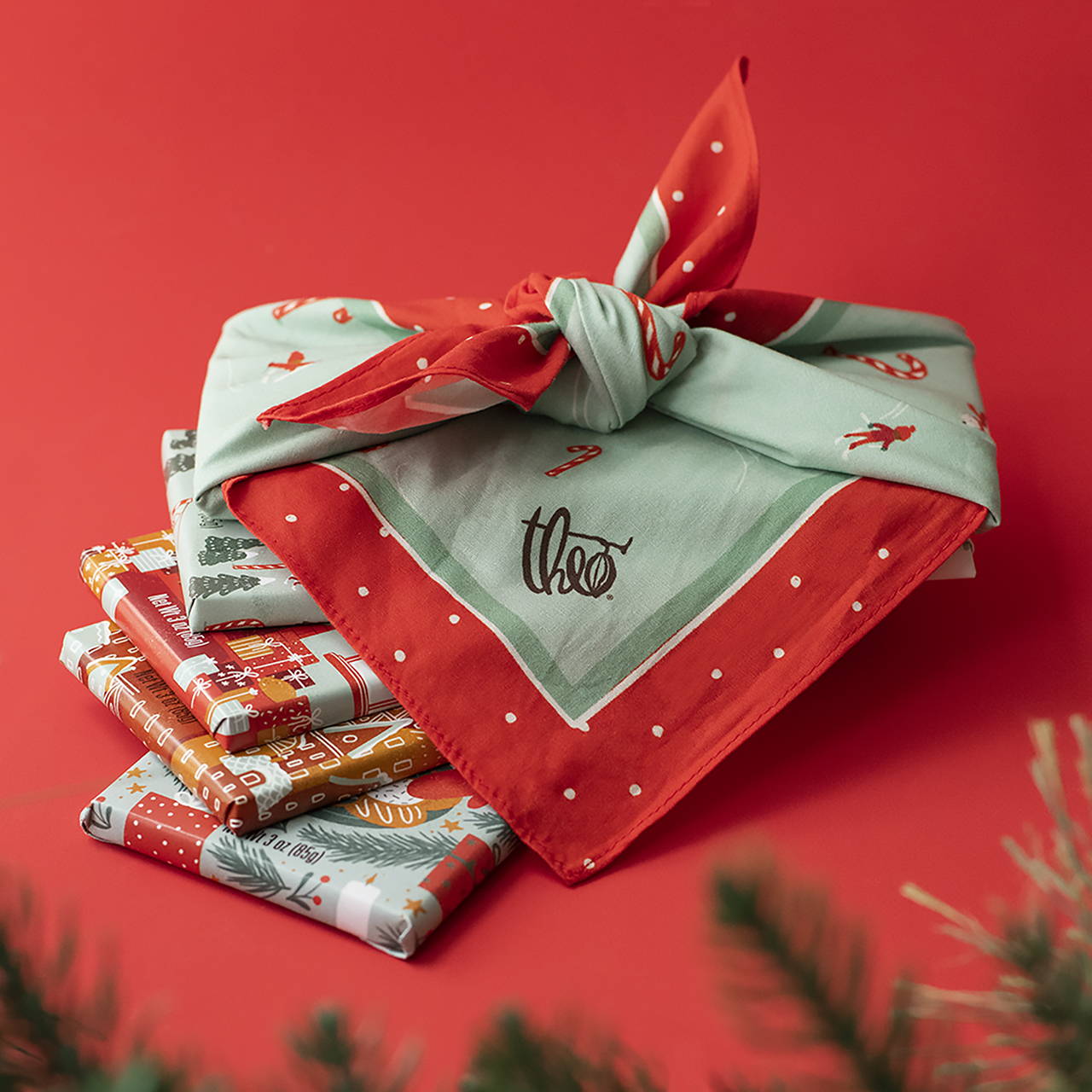 Furoshiki are traditional Japanese fabric wrap and has existed in Japan for over 1,200 years. Pronounced foo-roh-shee-kee, furoshiki are were originally used to wrap and transport goods. They also serve as a great reusable alternative to wrapping paper.
Wrapping Paper vs. Fabric Wrap
Approximately 4.6 million pounds of wrapping paper is produced in the United States each year. Sadly, most of this wrapping paper is destined for a landfill after its brief one-time use.
The furoshiki wraps are the perfect alternative to wasteful wrapping paper. They are reusable, simple and also incredibly beautiful. Using fabric wrap to wrap your gifts leaves no waste, absolutely none. No tape, no leftover paper, no paper roll, nothing. When your loved one opens their gift they are only left with the fabric that they can reuse to wrap a gift of their own in the future or repurpose entirely.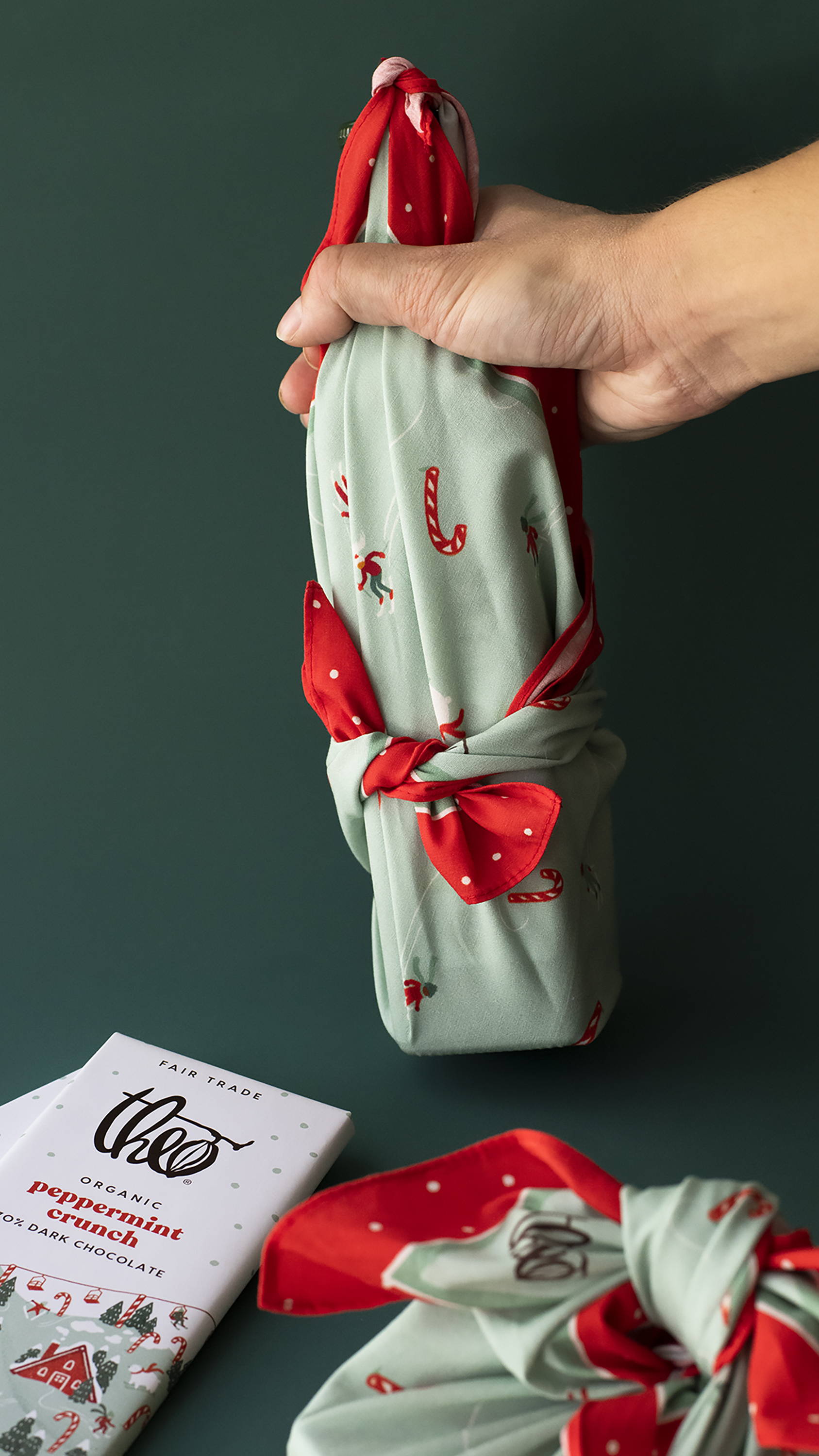 How to Wrap a Theo Chocolate Treat
Find a flat surface to work on and lay your wrapper, print side down, on the surface.

Place the chocolate bar on the diagonal center of wrap, closer to the corner nearest you.

Grab the corner of the wrap nearest the bar and wrap it over top. 

Then start rolling the bar towards the opposite corner of the wrap while wrapping the fabric around it. Keep rolling until all excess material is rolled around the bar.

Now gather the excess material at each end of the bar. Fold it on top of the box and tie the two ends together in a double knot. Voilà! Gifting wrapping has never been easier.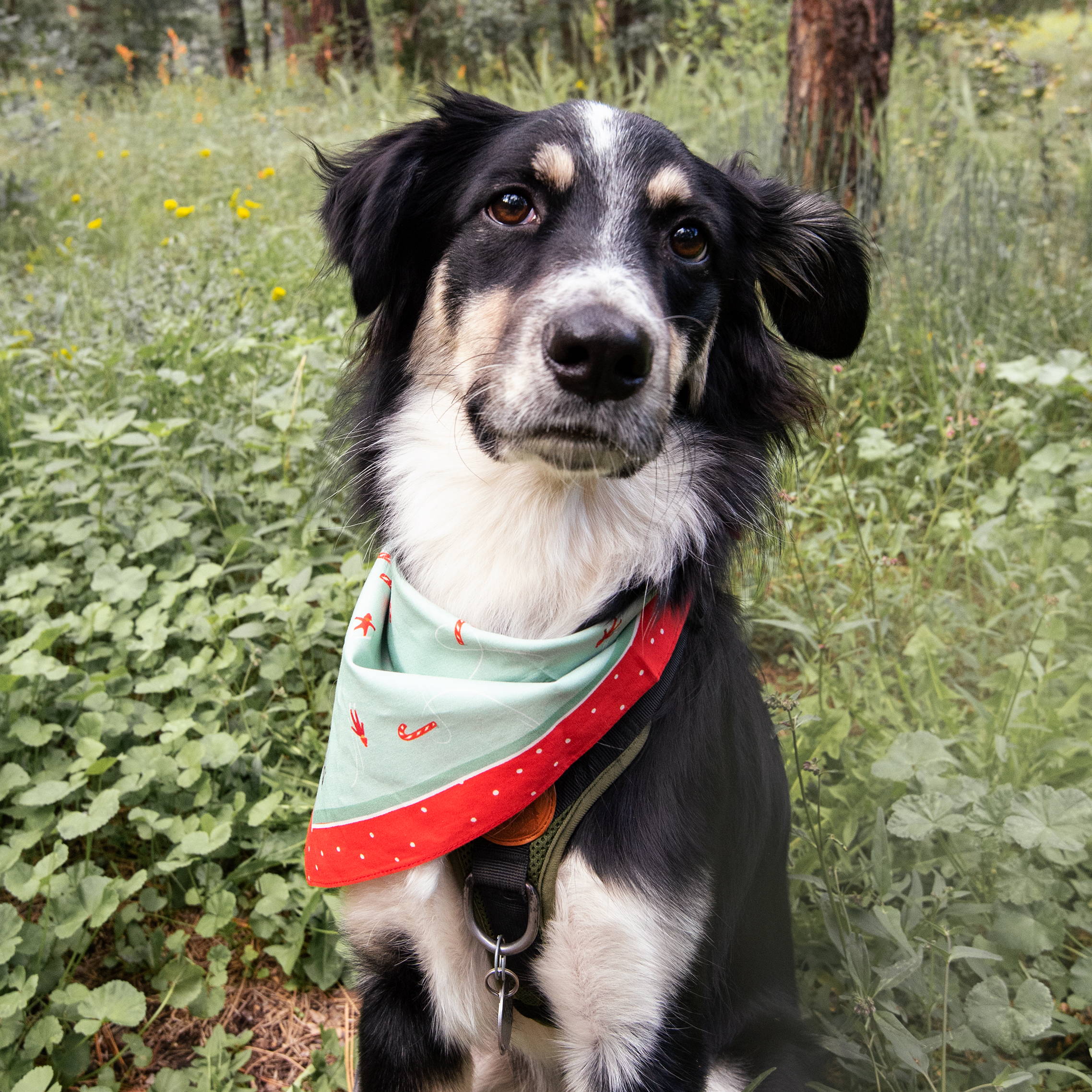 Other Unique Uses for Your Wrappr
Add some winter wonderland flair to your favorite bag by tying the wrap on to your handle.
We also think wrap looks quite charming around a kitty or a pooch's neck.
Need another mask? Head to over to Wrappr.com to learn how to create a homemade version of a mask.
Wrappr is a reusable and no-waste furoshiki gift wrap company that creates unique wraps designed by real artists who get a portion of every sale of their prints. Wrappr's mission is to eliminate the waste created by gifting and to support real artists. Check out Wrappr.com for more info.