Hazelnut Toffee
Posted by Theo Chocolate on Oct 11th 2021
Caramelized sugar. Butter. Hazelnuts. Chocolate. Need we say more?
Crisp, crunchy, buttery toffee covered with chocolate is surely one of life's (simply) great pleasures. Feel free to get creative with your inclusions, such as cocoa nibs, smoked almond or dried fruits — just make sure there isn't too much moisture in the ingredients you decide to try. We love Jacobsen Salt Co.'s sea salts. Try sprinkling an interesting finishing salt on the chocolate coated side of your toffee before it sets, to create something really special.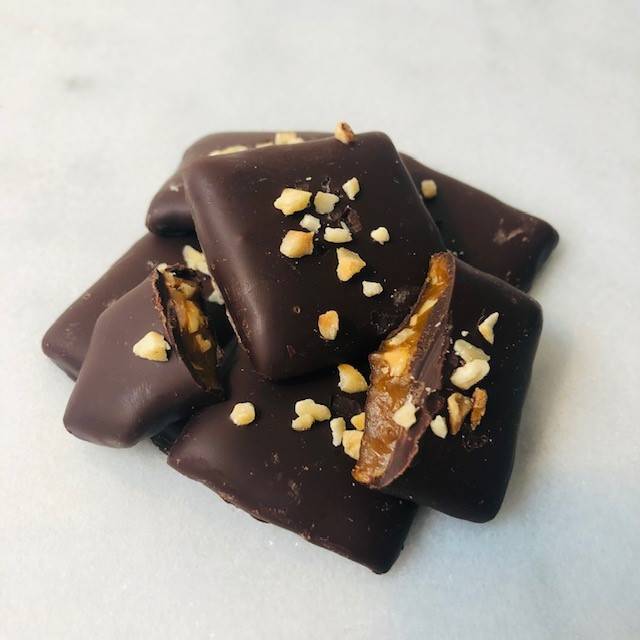 Ingredients for toffee:
¾ cup (1 ½ sticks) unsalted butter, at room temperature

1 cup + 2 tbsp sugar

1 tbsp + 1 tsp light corn syrup

1 tbsp water

½ cup (2 ½ ounces) hazelnuts, toasted, skinned and roughly chopped, divided

¾ tsp gray salt

1 cup tempered Pure 45% Milk Chocolate or Pure 70% Dark Chocolate
Instructions (makes about 1 pound of toffee, before coating):
Line a baking sheet with parchment paper or a Silpat mat and set aside.

Put the butter in a small (2- to 3-quart) saucepan. Sprinkle the sugar over the butter, and add the corn syrup and water. Cook the mixture over medium-low heat, stirring occasionally, until the butter has melted and the mixture is smooth. Continue cooking, without stirring, until it turns golden brown. If the toffee isn't cooking evenly and you need to stir it, do so gently, with a clean spatula.

Use a candy thermometer to carefully check the temperature of the toffee. When it reaches exactly 305 degrees F, remove the pan from the heat and add one-third of the hazelnuts and the salt, mixing well to incorporate. Pour the toffee in an even layer onto the prepared baking sheet. Immediately sprinkle on the remaining hazelnuts (unless you're saving them to decorate the chocolate after coating), and use a clean spatula to gently press them into the toffee

When the toffee is cool, you can break it easily into uneven pieces, but if you prefer more regular pieces, score the toffee while it's still very hot by cutting into it with a large chef's knife. Don't be shy—if you barely mark the surface, your lines will disappear, so cut almost all the way through the hot toffee.

Set the toffee aside to cool completely and crystallize, for between 12 hours and 24 hours. As the toffee sits, a buttery sheen may develop on top of it, but eventually most of it will be reabsorbed. Before coating the toffee with chocolate, turn it over and use a paper towel to wipe up any buttery sheen that remains, then dip one side of the toffee in the tempered chocolate (learn to temper chocolate

here

). Stored in an airtight container or completely coated with chocolate, toffee will keep for up to 6 weeks.