Chocolate-Stuffed Crème Brûlée French Toast
Posted by Theo Chocolate on Mar 31st 2021
When your day starts with chocolate-stuffed anything, you know it's going to be a good one.
Our chocolate-stuffed French toast is sure to delight any sweet tooth at your breakfast table. And if you're making several batches you can put each batch of French toast on a baking sheet in a 250-degree oven to keep warm while you make the rest.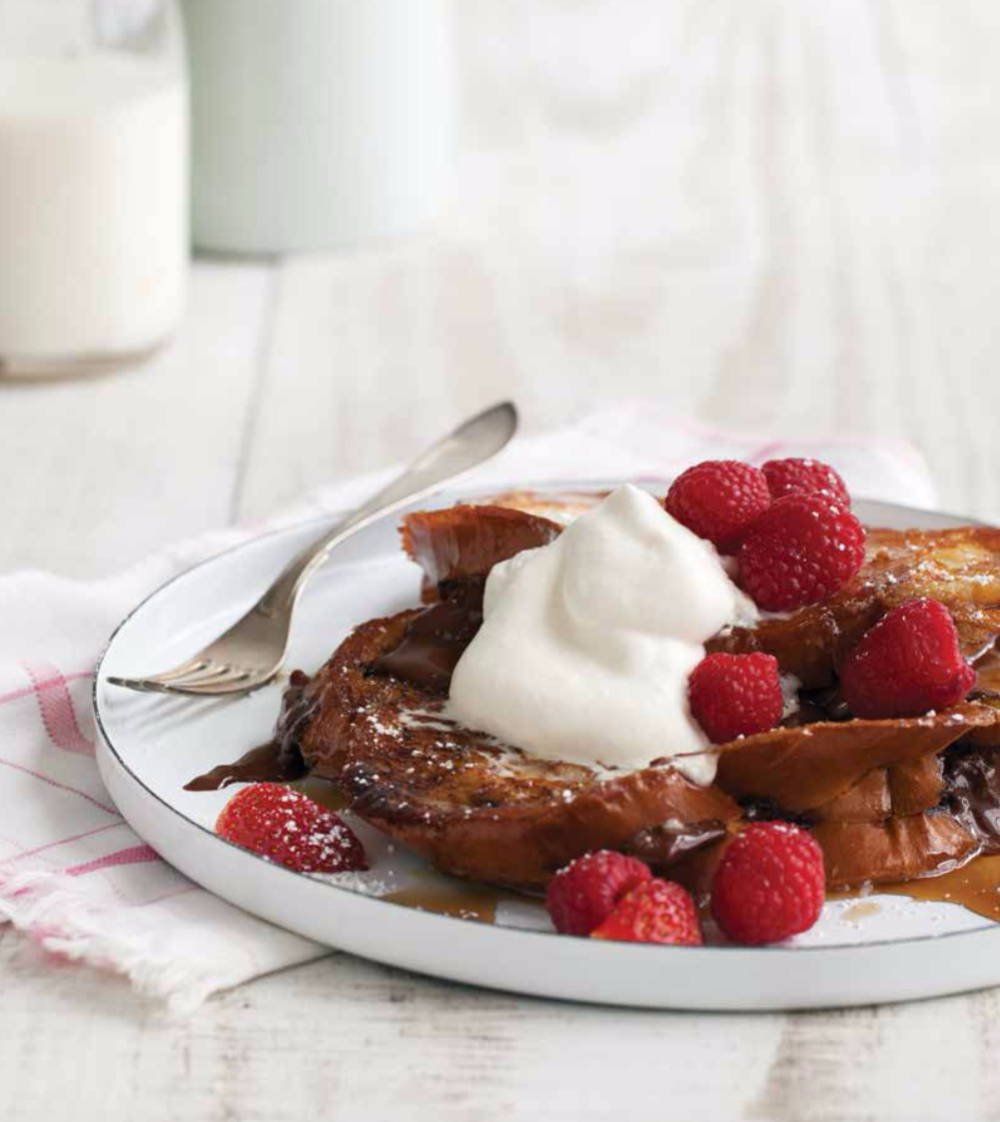 Photo by: Charity Burggraaf
Ingredients:
A dozen ½ inch slices slightly stale Portuguese bread, brioche, or challah
2 cups whole milk
3 eggs
1 tablespoon sugar
1 teaspoons vanilla extract
¼ teaspoon salt
Butter, for cooking
Turbinado raw sugar, for cooking
For the chocolate filling:
For the whipped cream:
1 cup heavy cream
1 tablespoon confectioner's sugar
For serving:
3 cups mixed fresh berries
Pure maple syrup
Instructions (makes 12 slices):
To make the chocolate filling, bring the cream to a boil (it's easiest to heat such a small amount in the microwave) and pour it over the chocolate. Let the mixture sit for 1 minute to melt the chocolate, then stir gently until smooth. Refrigerate the filling to set to a spreadable consistency while you gather the rest of your ingredients.
To make the whipped cream, whip the cream and confectioners' sugar to soft peaks and refrigerate until ready to serve.
To make the French toast, lay out 6 slices of the bread and spread the filling evenly on each of them. Top each with one of the remaining slices of bread. In a medium bowl, whisk together the milk, eggs, sugar, vanilla, and salt, then pour the custard into a wide, shallow pan such as a 13-by-9-inch baking pan or casserole dish. Place as many sandwiches into the egg mixture as will fit in a large frying pan or on a griddle, and let them soak until soft, about 30 seconds (the soaking time will depend on how soft and fresh your bread is). Turn the sandwiches over (you may have to do this with your fingers) and let the other side soak.
Heat a frying pan or griddle over medium heat. Add butter to the hot pan, let it melt, and wait for the foam to subside. Lift the sandwiches from the egg mixture and transfer them to the hot pan. Cook until firm and golden on the bottom. Just before you flip them, sprinkle a layer of turbinado sugar on the top of each sandwich–enough so that you can really see the sugar layer–then flip the sandwiches and cook the other side, adding butter if necessary. Make sure the griddle isn't too hot; you want the center of the sandwich to cook without overbrowning the bread. Repeat with the remaining sandwiches, wiping out the pan between batches (you need to remove the excess sugar or it will burn).
To serve, place the sandwiches on serving plates, caramelized sugar side up, and serve immediately with the whipped cream, berries, and maple syrup.