Chocolate Raspberry Oat Scones
Posted by Katy on Feb 16th 2022
We partnered with Bob's Red Mill to celebrate the redesign of our chocolate Baking Bars!
Fresh baked goods are always a wonderful way to start the day. We are always looking for ways to add a little chocolate into our morning routine, and so Katy R, Product Development Manager at Theo Chocolate, created the breakfast bake of our dreams - Chocolate Raspberry Oat Scones!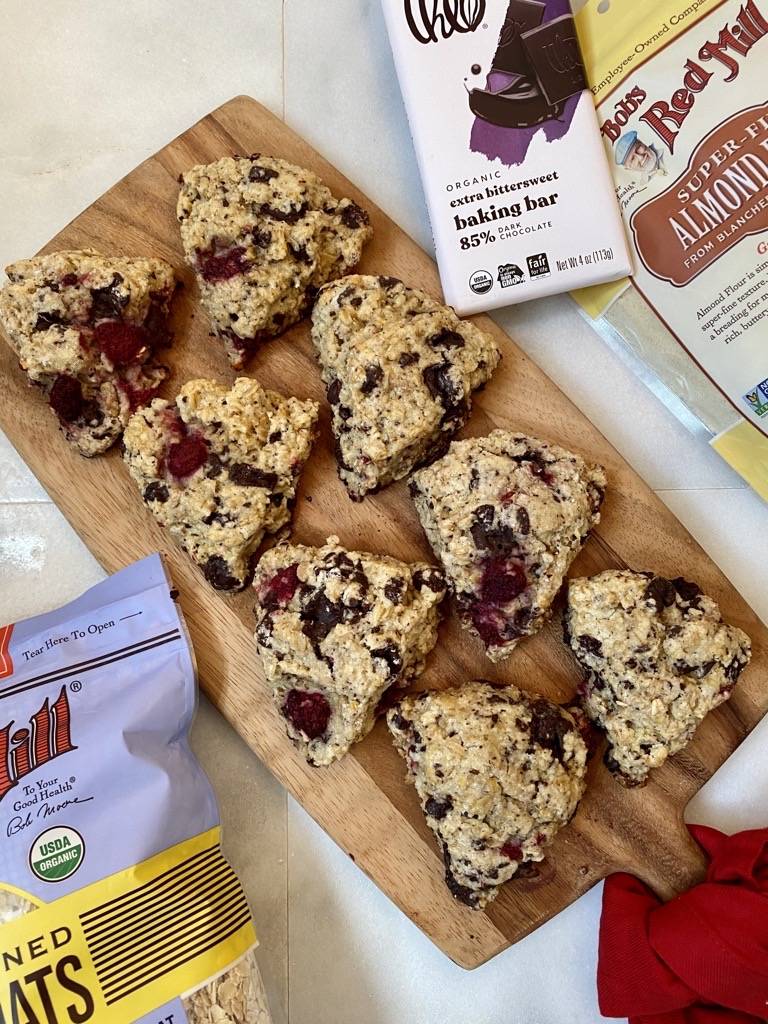 We love teaming up with ethical and sustainable brands, but it is an added treat for us to find a company that also manufactures high-quality foods and ingredients in the Pacific Northwest. As a leader in wholesome, organic, non-GMO and gluten free foods, Bob's Red Mill does an amazing job at promoting "whole grain foods for every meal of the day."
By incorporating high-quality flours and old fashioned rolled oats from Bob's Red Mill and our organic and fair trade dark chocolate, Katy found a way to spoil chocolate-lovers while providing a nourishing morning meal.
"I like the subtle sweetness and flavor brought in with the almond flour. It's a nice balance with the Extra Bittersweet Chocolate and tart raspberries. The almond flour and oats also add a bit of a nutritional punch to the recipe, which I always appreciate in a breakfast baked good. This scone recipe will hopefully keep you satisfied until lunch." -Katy
Scones are a breakfast staple, and this easy baking recipe is great for bakers at any level.
In a large bowl, mix the all-purpose flour, almond flour, oats, sugar, baking powder, and salt. Set aside.

In a small bowl, whisk together the cream, egg, and orange zest. Place in the refrigerator while you complete the next step.

Add the butter to the dry ingredients and, using two knives or a pastry cutter, cut the butter into the flour mixture until the butter is approximately the size of peas.

Add the chopped chocolate and raspberries to the butter mixture. Pour the wet ingredients on top. Gently mix until the dough starts to come together. If the dough seems dry, add another tbsp of cream.

Transfer the dough to a lightly floured surface. Divide in two. Shape each half of dough into a disc approximately 1-inch thick. Cut each disk into 6 pieces. Place scones onto baking sheet lined with parchment or a silicon mat and freeze for at least 30 minutes.

Preheat the oven to 400 degrees.

Bake scones for 18-20 minutes, until golden. Scones are best enjoyed the day they are baked.
If bakers don't have almond flour, they can substitute the same amount of all-purpose flour.
Chocolate (and baked goods) just taste better when they're made the right way: from scratch & with a positive impact. Better baking starts with organic & fair trade Theo Chocolate Baking Bars.