Chocolate Cupcakes with Chocolate Salted Caramel Buttercream
Posted by Katy on Sep 22nd 2022
The hint of coffee and salty sweet caramel frosting make for a truly decadent bite.
We're always looking for new indulgent recipes to highlight our chocolate, and these cupcakes are no exception! These delicious cupcakes were created with our new Cocoa Powder by Katy R, Product Development Manager at Theo Chocolate. The touch of chilled coffee makes for a rich, moist cupcake and the salted caramel buttercream is the perfect addition to all your cakes and cupcakes.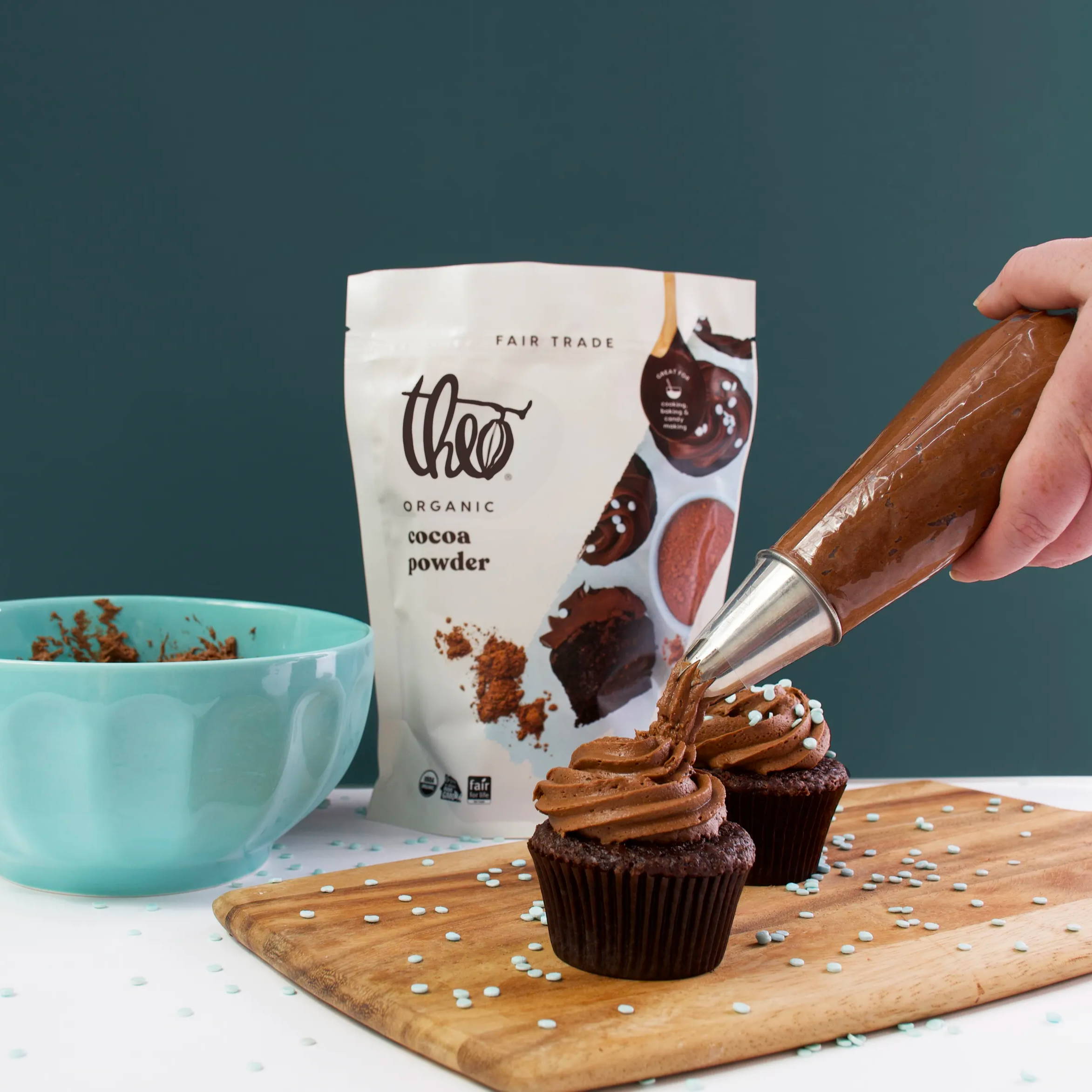 1½ cups granulated sugar
1½ cups all-purpose flour
¾ tsp baking powder
½ tsp baking soda
¾ tsp salt
2 eggs
½ cup brewed coffee, cooled to room temperature
½ cup sunflower oil
⅔ cup sour cream
1 tsp vanilla extract
2 sticks/1 cup unsalted butter, softened

3

¼ cup confectioners' sugar

¼ tsp salt

2 tsp vanilla extract

½ cup caramel sauce

Optional: up to 4 tbsp milk
Preheat the oven to 350°F. Line two standard 12-cup cupcake tins with paper liners.

In a large bowl, whisk together the sugar, flour, cocoa powder, baking powder, baking soda, and salt. Set aside.

In a medium bowl, whisk together the eggs, coffee, oil, sour cream, and vanilla extract until combined. Pour wet ingredients into the bowl of dry ingredients. Gently fold the wet ingredients into the dry ingredients until just combined, being careful not to overmix

Using an ice cream scoop, fill each cupcake liner halfway with batter (do not overfill!). Bake the cupcakes 19 – 20 minutes, or until a toothpick inserted into the center of the cupcake comes out clean or with just a few crumbs.

Remove cupcakes from pan and set on a wire rack to cool completely before frosting.
Using a hand or stand mixer, beat the butter until soft and creamy, about 3 minutes.

Sift together the confectioners' sugar, cocoa powder and salt. Reduce the mixer speed to low and slowly add the confectioners' sugar mixture.

Once all the sugar mixture has been added, increase the mixer speed to medium-high and beat until fluffy, approximately 3 minutes.

Scrape down the bowl with a spatula and add caramel sauce and vanilla extract. Beat the frosting for an additional 3 minutes.

Depending on the texture of your caramel sauce, you may need to add up to 4 tbsp of milk to reach your desired frosting consistency.