Gluten-Free Chocolate Cupcakes with Strawberry Cream Cheese Frosting
Posted by Casey from The Mindful Hapa on Mar 10th 2022
We've never met a cupcake we didn't like.
We teamed up with Casey from The Mindful Hapa to create a chocolate cupcake recipe that will be your go-to for birthdays, holidays and any other celebration you can think of. Plus, the beautiful and delicious pink cream cheese frosting is free of food coloring and other junk.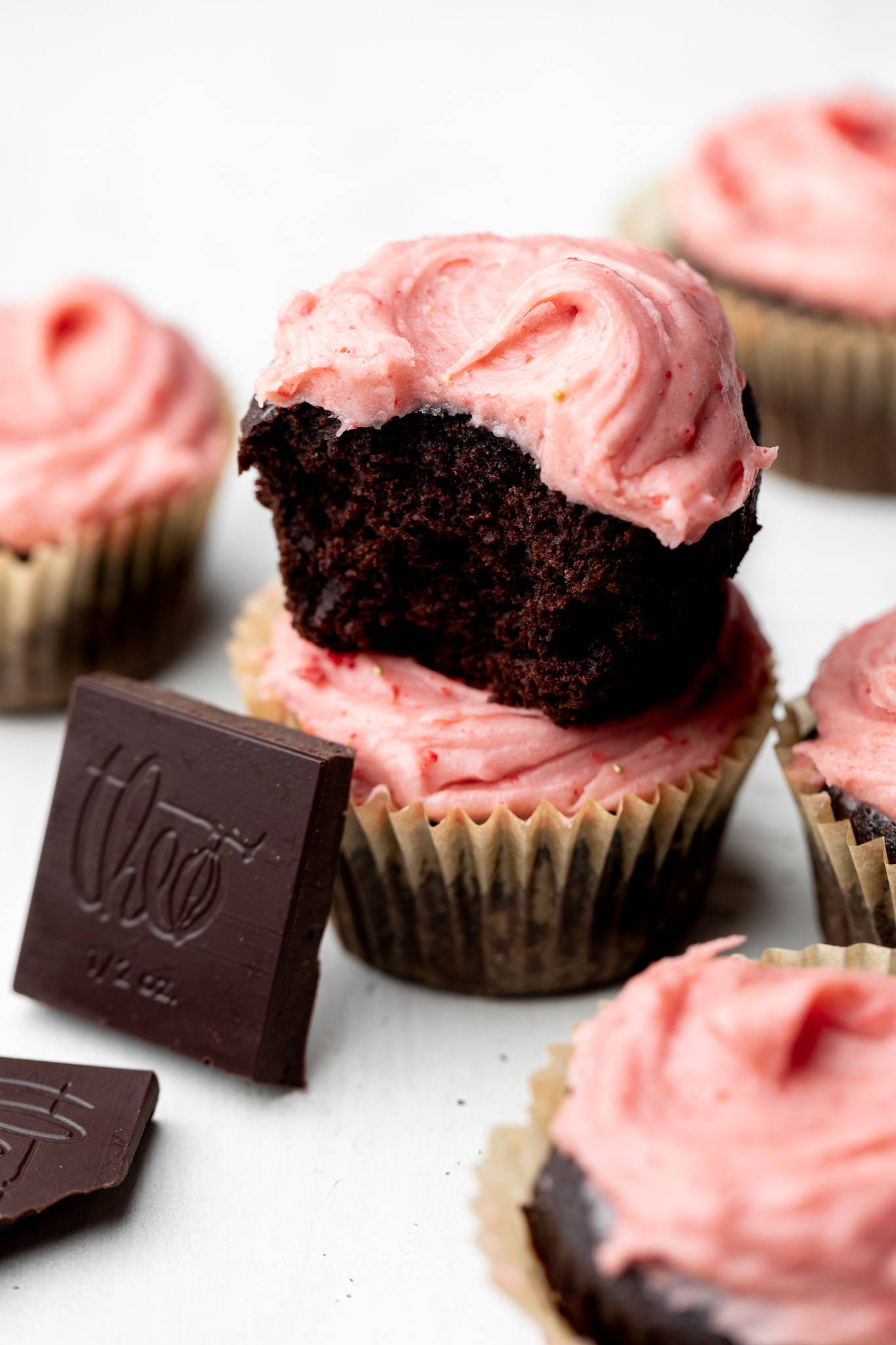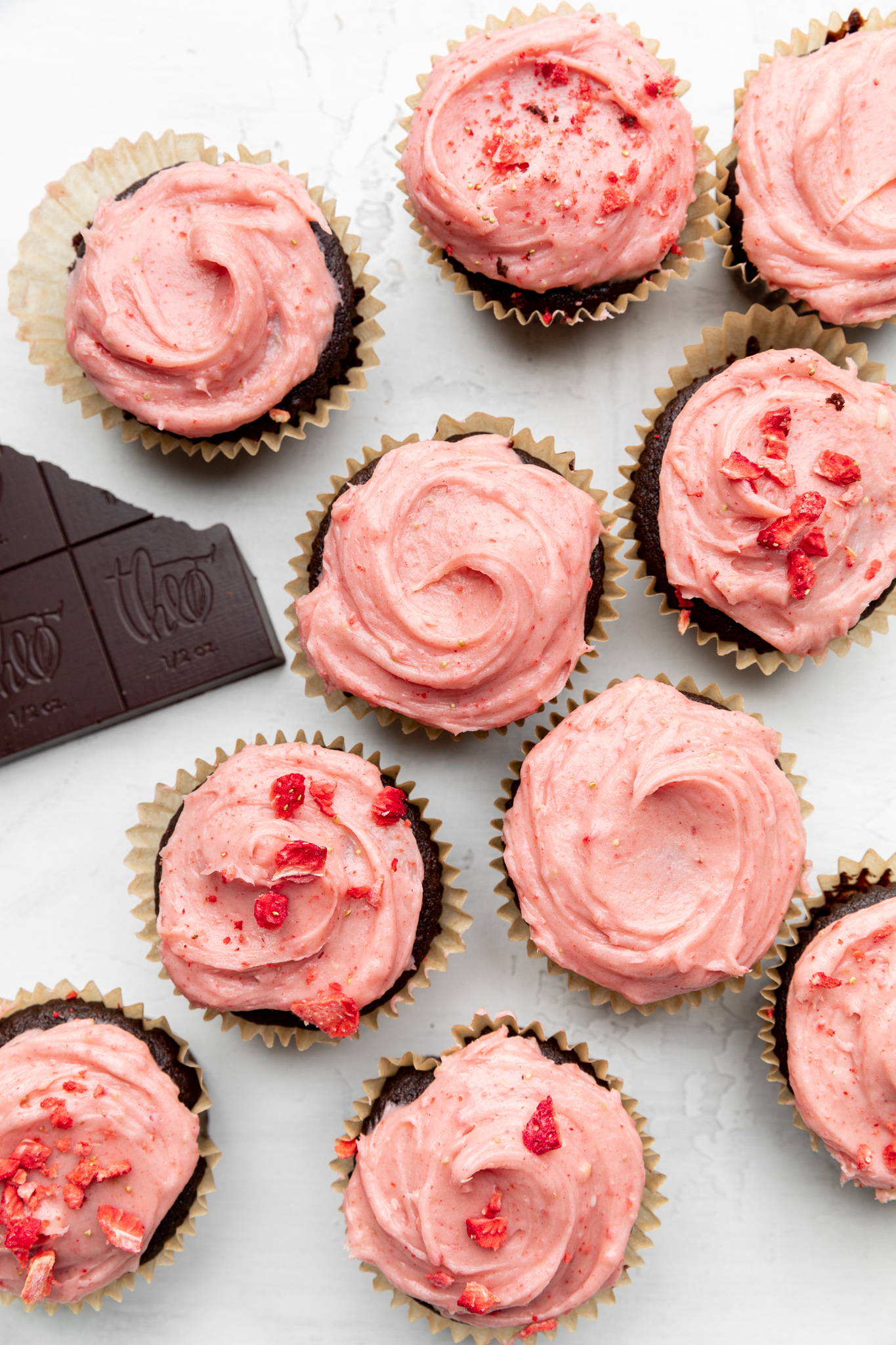 "These cupcakes are super rich and full of chocolate flavor thanks to both unsweetened cocoa powder *and* my favorite high-quality Bittersweet Baking Bars from Theo Chocolate. The melted chocolate amplifies the rich chocolate flavor in these cupcakes. If you need a new go-to chocolate cupcake recipe…THIS 👏 IS 👏 IT 👏"
- Casey
Chocolate Cupcake Ingredients:
1 cup GF flour

¼ cup super fine blanched almond flour

⅓ cup unsweetened cocoa powder

1 tsp baking soda

½ tsp baking powder 

¼ tsp salt

½ cup coconut oil

1 cup coconut sugar 

2 large eggs + 1 egg yolk

⅓ cup sour cream

2 tsp vanilla extract

1 cup water
Strawberry Frosting Ingredients:
1 cup freeze-dried strawberries (~¼ cup powder)
5oz cream cheese, softened
3oz butter, softened 
1½ cups powdered sugar
1 tsp vanilla extract
⅛ tsp salt
In a medium mixing bowl, sift together GF flour, almond flour, unsweetened cocoa powder, baking powder, baking soda, and salt. Use a whisk to stir after sifting to ensure everything is evenly combined. Set aside.

In a separate microwave-safe bowl, melt chocolate and ½ cup coconut oil in 30 second increments for ~90 seconds total. Stir together until smooth.

To a large mixing bowl, add coconut sugar and melted chocolate, using a whisk to stir together until smooth.

Whisk in eggs and egg yolk until just combined. 

Whisk in vanilla extract and sour cream until just combined.

Working in batches, add sifted flour to batter, using a spatula to fold in until just combined. 

Add 1 cup water and fold into batter until smooth, making sure not to overmix. 

Line 17 - 18 muffin liners and fill ⅔ full. (see recipe note 1) 

Bake at 350F for 16-18 minutes, or until a toothpick inserted in the center comes out mostly crumb-free (you do not want to overbake these!). Let cool for 10 minutes in muffin tray, before removing to cool on a wire baking rack.

While cupcakes are cooling, start on your frosting. Add freeze dried strawberries to a food processor and blend until smooth. Set aside.

In a large mixing bowl, add softened cream cheese and butter. Use a hand mixer to blend together until evenly combined and smooth. 

Add powdered sugar and vanilla extract and blend together until smooth. Stir in powdered freeze dried strawberries.

Frost cooled cupcakes with strawberry frosting. Enjoy!
I used a 2 tbsp cookie scoop sprayed with coconut oil to make it easier to evenly fill the muffin liners. 
Chocolate (and baked goods) just taste better when they're made the right way: from scratch & with a positive impact. Better baking starts with organic & fair trade Theo Chocolate Baking Bars.