Gluten-Free Chocolate Chunk Coffee Cake
Posted by The Mindful Hapa on May 5th 2022
Not that we need an excuse to eat dessert for breakfast, but this Chocolate Chunk Coffee Cake from The Mindful Hapa was made to be the perfect companion to your morning cup of coffee or tea.
"My newest breakfast obsession! With a chocolate crumble topping and bites of high-quality semisweet 55% melty dark chocolate in each piece, this moist and fluffy coffee cake recipe is absolute perfection! Save this easy baking recipe to make for a weekend treat or for something to snack on all week."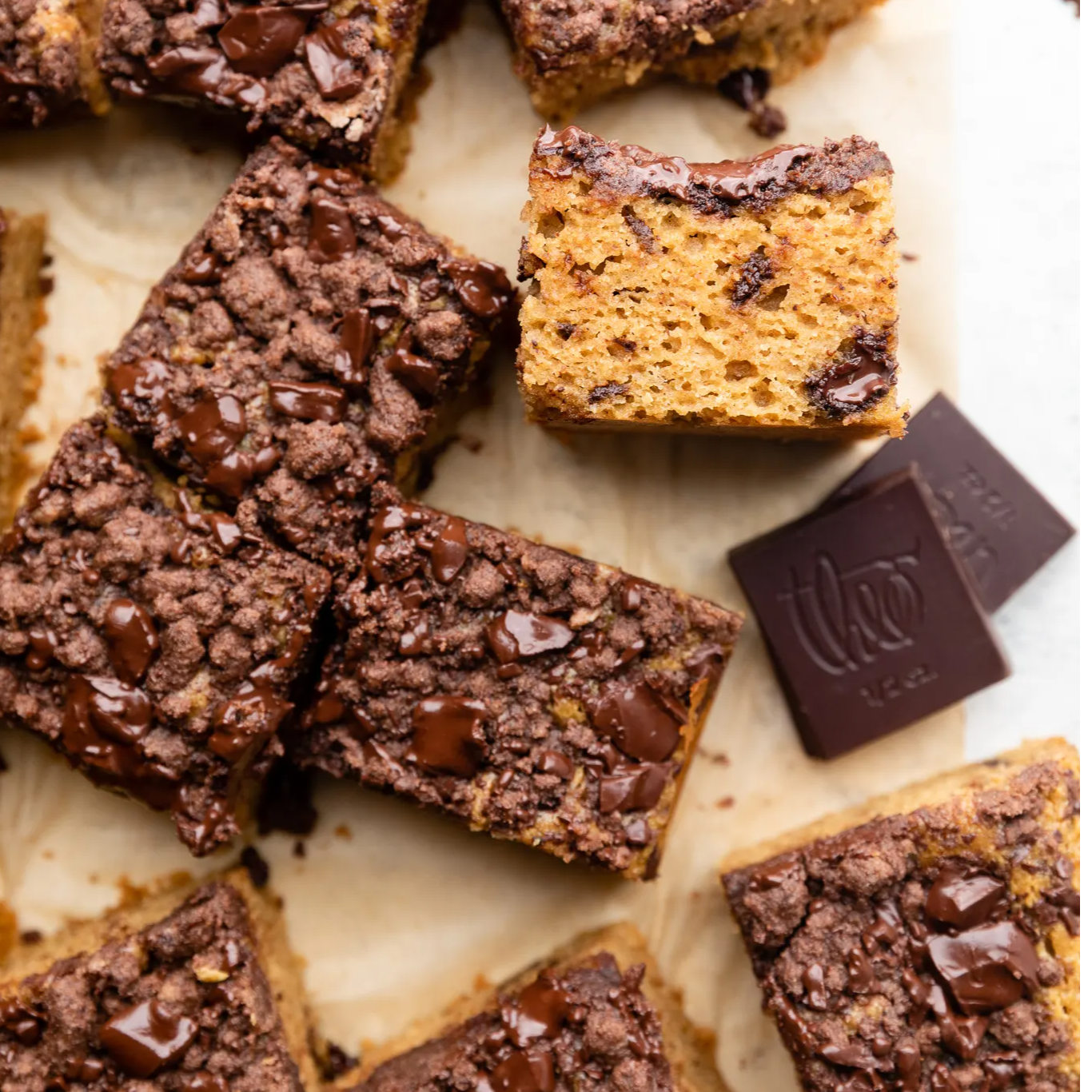 2 cups superfine almond flour
1 cup GF flour (must be 1:1 replacement)
1 tsp baking powder
1 tsp baking soda
½ tsp salt
3 large eggs
⅔ cup coconut sugar, packed
½ cup sour cream (sub dairy-free if needed)
½ cup almond milk
⅓ cup maple syrup
2 tsp vanilla extract
2oz Theo Chocolate Semisweet Baking Bar 55% Dark Chocolate, chopped finely
Chocolate Streusel Topping Ingredients:
½ cup gluten-free flour

1 tbsp unsweetened cocoa powder

3 tbsp coconut sugar

5 tbsp butter, melted (dairy-free if needed)

2oz Theo Chocolate Semisweet Baking Bar 55% Dark Chocolate, chopped finely
Preheat the oven to 350F and line a 9x9 pan with parchment paper or spray with coconut oil or butter.

In a medium mixing bowl, whisk together almond flour, gluten-free flour, baking powder, baking soda, and salt. Set aside.

In a separate large mixing bowl, whisk together eggs, coconut sugar, sour cream, almond milk, maple syrup, and vanilla extract until evenly combined.

Sift in your dry ingredients to the bowl of wet ingredients, and stir together until just combined. Fold in chopped chocolate. 

Prepare your streusel topping - in a small bowl, combine the gluten-free flour, unsweetened cocoa powder, coconut sugar, and melted butter. Stir together with a fork until evenly combined and you have a crumbly mixture.

To the parchment-lined 9x9 pan, use a spatula to spread batter into a single layer and top with streusel. Use your fingers to lightly press the streusel topping into the batter. Sprinkle with the remaining half bar of chopped chocolate.

Move the pan to the oven and bake at 350F for ~34-37minutes (mine took 35 minutes). Edges of the cake should be browned, and a knife/toothpick inserted in the middle should come out mostly crumb-free. Remove from oven and let cool. Enjoy!