Andrew's Chili with Dark Chocolate
Posted by Andrew on Apr 1st 2022
You asked; we answered: more savory recipes, please!
Our favorite Theo chef is back with another savory recipe. This easy chili recipe is an instant classic. With a little spicy bite and a dash of sweetness, this chili recipe with beans had our team going back for seconds (and thirds!). By adding a couple of pieces of our rich dark chocolate, Andrew has taken this homemade chili to the next level.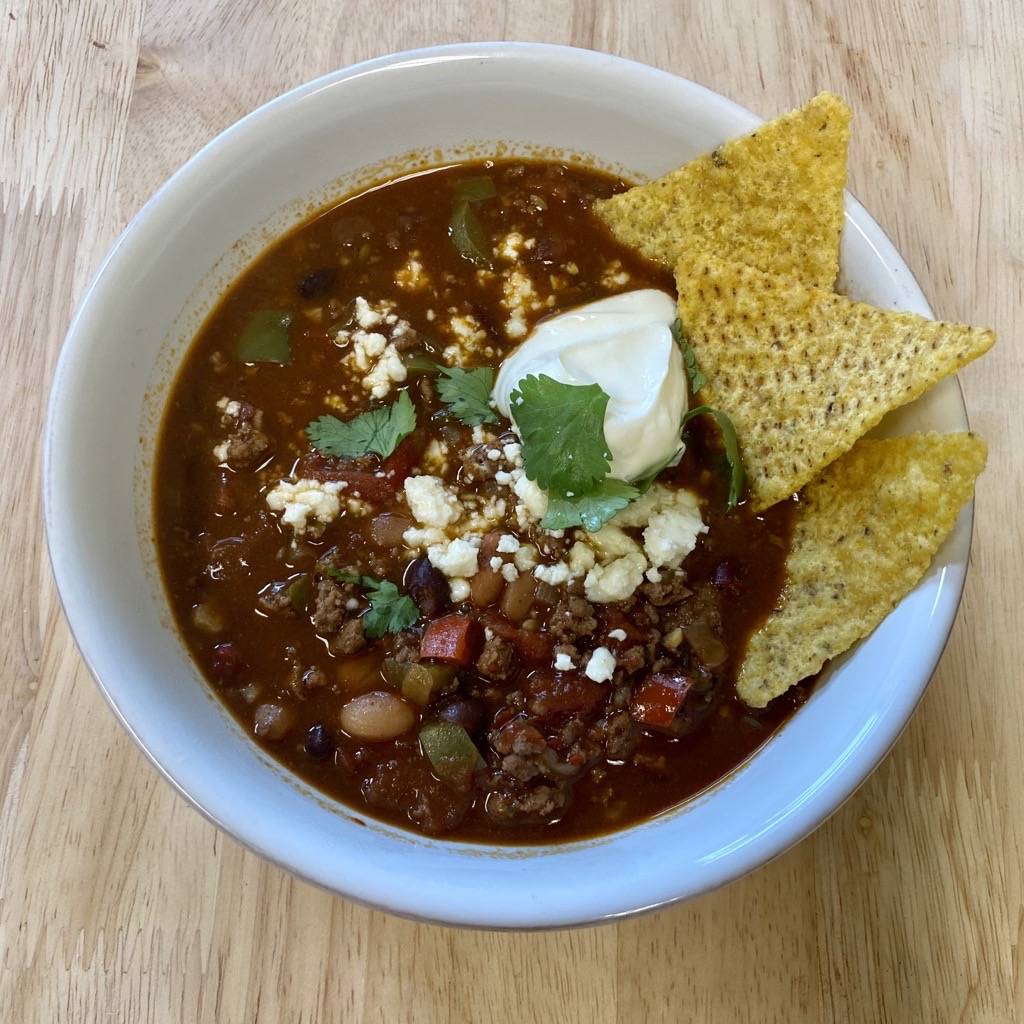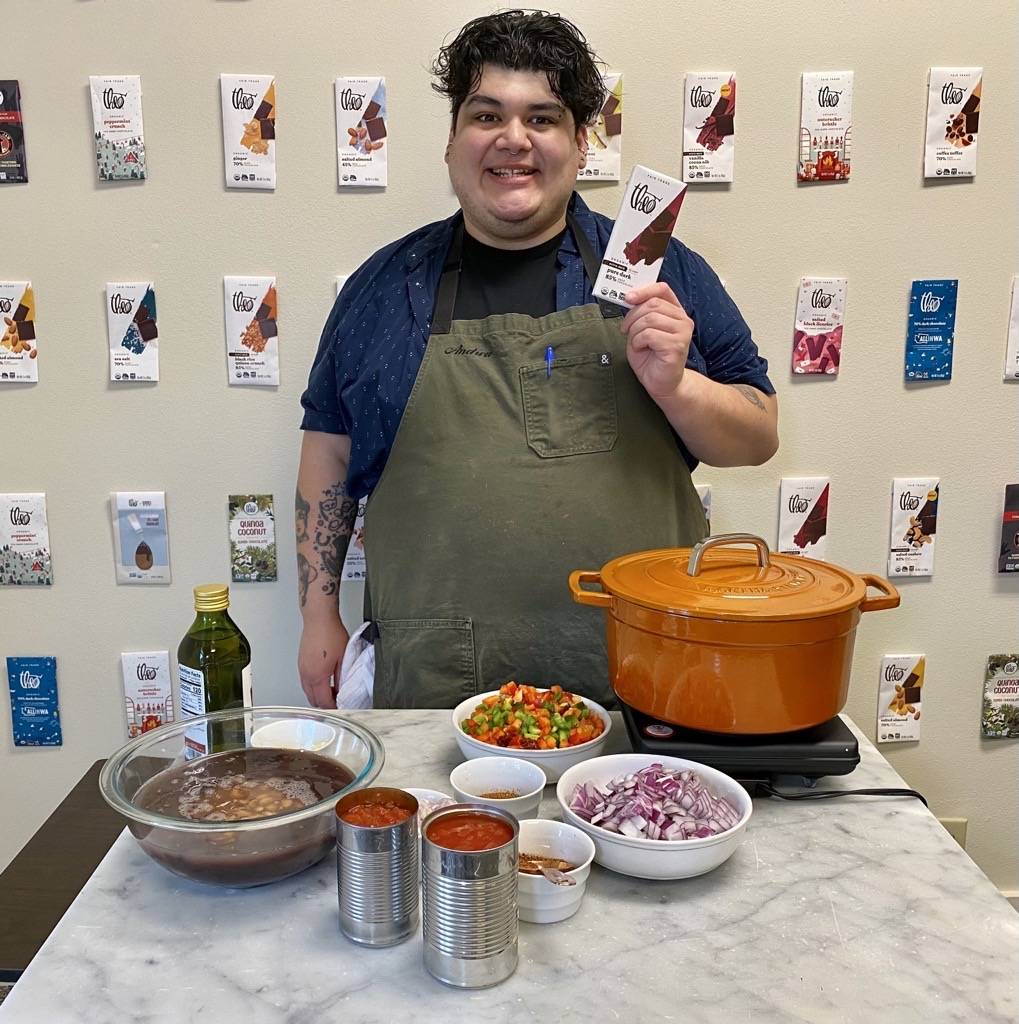 "I love to cook, and one thing that is so hearty and such a crowd-pleaser is chili. This is my go-to chili recipe for year-round comfort. "
– Andrew G.
A couple of Andrew's extra tips for this recipe:
To make this a vegan chili, swap out the beef and sausage for a meat alternative. 

If you have a busy week but you're still craving chili, this is easy to prepare in advance and make in the crockpot ahead of time. All you have to do is add in the chocolate before serving and then it is ready to go!
3 tbsp olive oil

1lb ground beef

 1lb Italian sausage
 1 red onion, diced
 1 shallot, diced
 6 cloves of garlic, diced
 1 red bell pepper, diced
 1 green bell pepper, diced
 1 chipotle pepper in adobo sauce, deseeded and diced
 1 1/2 tsp chili powder
 1 tbsp of cumin
 1 tsp cayenne pepper
 2 tsp salt
 1 tsp pepper
 pinch of ground cinnamon
2 tbsp of taco seasoning (see homemade mix below)
 1, 15 oz can black beans with juice
 1, 15 oz can light or dark kidney beans with juice
 1, 15 oz can pinto beans with juice
 1, 15 oz can diced tomatoes
 1 small can of tomatoes and green chilies
 1.5 oz (four squares) Theo Chocolate Pure 85% Dark Chocolate, rough chopped
1 tbsp chili powder

 1/2 tsp garlic powder

 1/4 tsp onion powder

 1/2 tsp dried oregano

 1/2 tsp smoked paprika

 1 1/2 tsp cumin

 1 tsp salt

 1 tsp black pepper
 Sour cream or crème fresh

 Cotija cheese, crumbled

 Cilantro, chopped

 Shredded Colby jack cheese

 Corn chips
1. Using half of the olive oil, brown the ground beef and Italian sausage in a large pot. Once cooked, drain and set aside. 
2. Add remaining olive oil and sweat onions, shallot, and garlic for 3-5 mins. 
3. Add bell peppers, chipotle pepper, and all spices and mix to combine. 
4. Mix in meat, beans, diced tomatoes, and tomatoes with green chilies. Cook for 25-30 mins on med-high. It should reach a low rolling boil. Then lower heat to low and simmer for 2 hours, stirring occasionally. 
5. Once done, remove from heat and add the dark chocolate. Stir until the chocolate has melted and mixed. Serve and garnish to your liking. Enjoy!