Bourbon Cocoa Nib Pecan Pie
Posted by Andrew on Feb 28th 2023
A classic pecan favorite with a cocoa twist.
Andrew's latest chocolaty creation has arrived! Toasted pecans and Theo Chocolate Roasted Cocoa Nibs come together with aromatic bourbon for a truly scrumptious pie. The cocoa powder gives the crust a beautiful golden hue, and the perfectly flaky bite will have you making this crust again and again.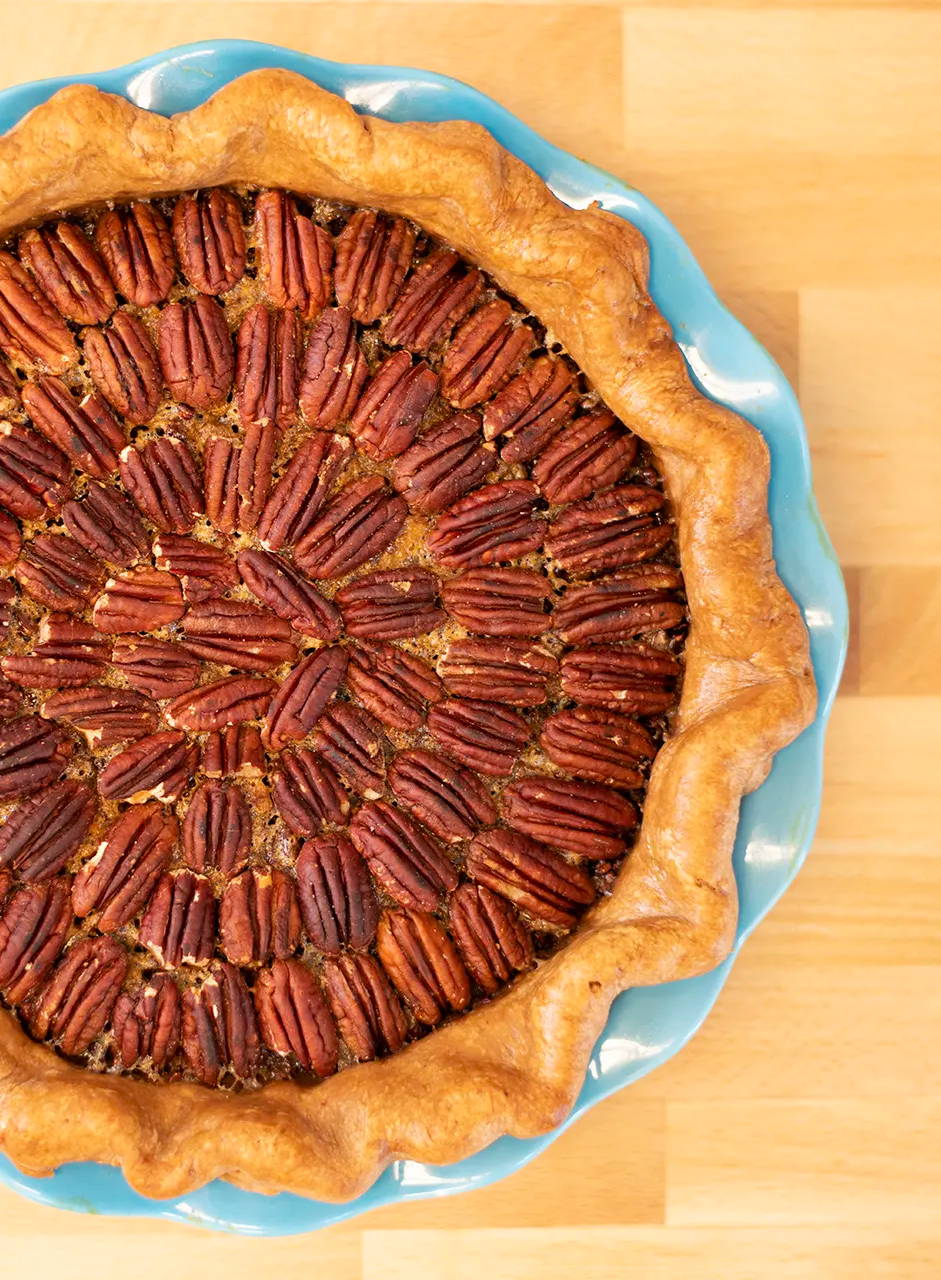 Butter Crust
2½ cups all purpose flour
1½ tsp granulated sugar
2 tsp cocoa powder
1 tsp salt
1 cup unsalted butter, cubed and chilled

⅓ cup cold water

1 egg

½ tsp cream
Pie Filling
1 cup halved pecans
¾ cup chopped pecans
1 cup packed brown sugar
3 eggs
4 tbs unsalted butter, melted
¾ cup light corn syrup
½ tsp salt
¼ tsp lemon zest
3 tbs bourbon
Filling
Make pie crust following butter crust recipe below.

Toast chopped pecans on stovetop until nice and fragrant, do not burn. Remove and let cool. Repeat with halved pecans and set aside for topping.

In a bowl, whisk together eggs and brown sugar until combined. Then add in melted butter,

corn

syrup, salt, lemon zest, bourbon, cocoa nibs, and chopped pecans.

Once combined, fill pie crust and layer halved pecans in a circular pattern on top.
Crust
Add flour, sugar, cocoa powder and salt to a food processor and lightly pulse to mix together.

Add cubed, chilled butter then pulse until mixture becomes crumbly, about 20-30 seconds.

Continue mixing while slowly drizzling in cold water until mixture looks slightly crumbly but holds shape when pressed together.
Remove mixture and roll into a ball, cover in plastic wrap and refrigerate for at least an hour.

Flour your work station and roll out pie crust to about 11-12 inches round.

Lay crust into a pie dish and add any crust designs you'd like. Cut any large overhanging pieces around the edge and freeze for one hour.

Preheat oven to 425F and cover dough with parchment. Fill with beans or pie weights and bake for 10-15 minutes. Go for a lighter crust color as it will continue to bake with the filling.

Remove pie weights and mix egg and cream to create an egg wash. Brush the entire crust after it's cooled for 10 minutes and dock the bottom with a fork.

Add pie filling and bake at 350F for 50 minutes. At the 30 minute mark, check to make sure the crust isn't too browned. If it looks close, wrap foil around the edges to cover the crust before finishing baking.

Pie will have a slight jiggle but be firm and set. If too liquidy, continue baking and check at 10 minute intervals until done.